DEKTEC: DekTec introduced the DTA-2180 low profile PCIe H.264 encoder. The DTA-2180 is a low latency — 150 to 600 ms — H.264 hardware encoder based on the Magnum chipset. It supports MPEG-2 and H.264 and up to 16 channels of audio. Audio can be encoded as AC-3, AAC or MPEG-1 Layer 2. The DTA-2180 offers a 10 bit 4:2:2 option for contribution encoding.The DTA-2180 has a 3G –SDI and HDMI input and an ASI output. The compressed stream output — TS encapsulated H.264 or mpeg-2 — is also available on the PCIe for real time streaming, processing and recording.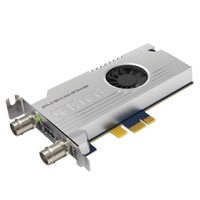 NIMBUS: The WiMi6400T and WiMi6400R provides high quality Full HD encoding/decoding function with low latency of 40ms for encoding and decoding, each. It supports wide range of encoding rate from 1Mbps ~ 30Mbps for the high quality video for video broadcasting. WiMi6400T provides RTSP streaming server functionality. WiMi6400T also can be used as an real-time MPEG-2 TS/UDP streaming server with linear PCM audio for IPTV network. It supports one-to-many multicasting function over Ethernet LAN or IP network. So, there is no restriction on the numbers of receiver in Ethernet LAN or IP networks.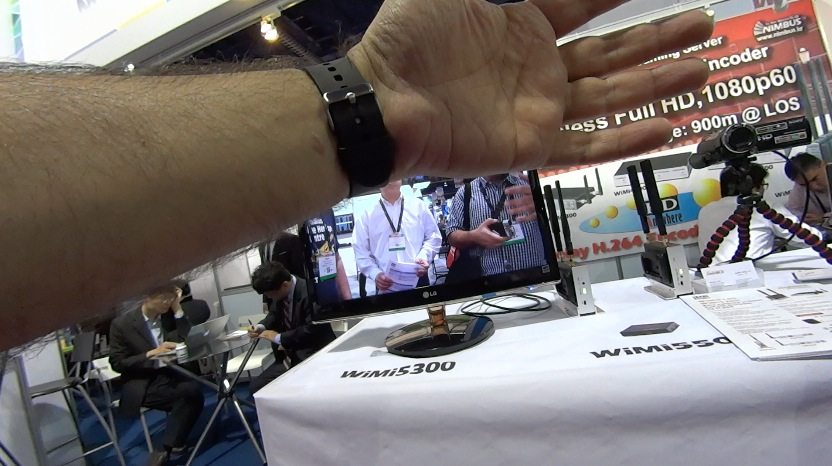 VIOLIN MEMORY: Violin Memory's 6000 Series flash Memory Arrays are all-silicon shared storage systems built from the ground up, harnessing the power of flash memory and delivering industry-leading performance and ultra-low data access latencies. A single 3U array delivers more than 1 million IOPS with consistent, spike-free latencies in microseconds. Violin Memory is uniquely positioned to deliver flash memory systems that can compete with performance disk from a cost for raw capacity perspective, even before taking into account the potential benefits of features like deduplication. This is possible because 6000 Series flash Memory Arrays are purpose built with flash components sourced through Violin Memory's unique and strategic alliance with industry leader Toshiba. The core of the 6000 is the Flash Memory Fabric. The Flash Memory Fabric is a resilient, highly available deep mesh of thousands of flash dies that work in concert to continuously optimize performance, latency, and longevity. All of the active components of the Flash Memory Fabric are hot-swappable for enterprise grade reliability and serviceability. 6000 Series flash Memory Arrays connect natively to existing 8Gb/s Fibre Channel, 10GE iSCSI, and 40Gb/s Infiniband network infrastructures.

TOSHIBA: ExaEdge™ by Toshiba is a next generation SSD-based edge streaming server with extra low power consumption. It allows you to stream large numbers of concurrent high quality video streaming sessions with low host CPU and memory resource utilization. ExaEdge™ adopts Toshiba's NPEngine™, the world's first direct SSD-to-IP embedded hardware technology. ExaEdge™ ExaEdge offers direct storage access from SSD as an embedded hardware solution, in 2RU compact-size server. The resulting performance is capable of sending up to 64,000 simultaneous sessions with the total host CPU usage at less than 12%. Modern video distribution over IP, like OTT streaming, leverage the existing HTTP-based caching functionalities. Unlike the traditional IPTV network which is basically adopting specialized network architectures, in adaptive bitrate scenarios HTTP chunks can be cached by traditional cache server at the edge to be then redistributed with lower latency.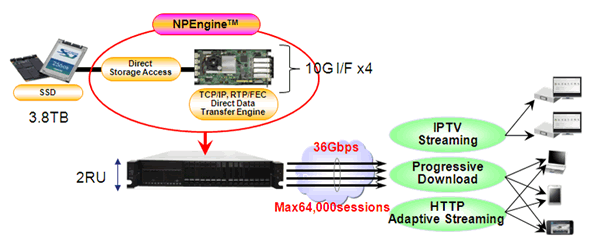 NHK: NHK was at NAB this week, quietly showing off footage shot with a Super Hi-Vision 8K camera, affectionately known as the Cube. The Cube camera is surprisingly compact  at 2 kg, since, it records to one of the only 8K HEVC real-time encoders in the world. It's essentially a housing where the mammoth sensor and lens mount live, along with necessary connections. But even though it's a simple design, it delivers an amazing resolution of 7680 x 4320 pixels. 8K is a great format that could rival IMAX and be excellent for big events that can be beamed around the world and give spectators who can't make an event the opportunity to experience it in a way that all other formats before it could only dream to do. And NHK is planning on broadcasting the 2016 Summer Olympics in Rio in 8K.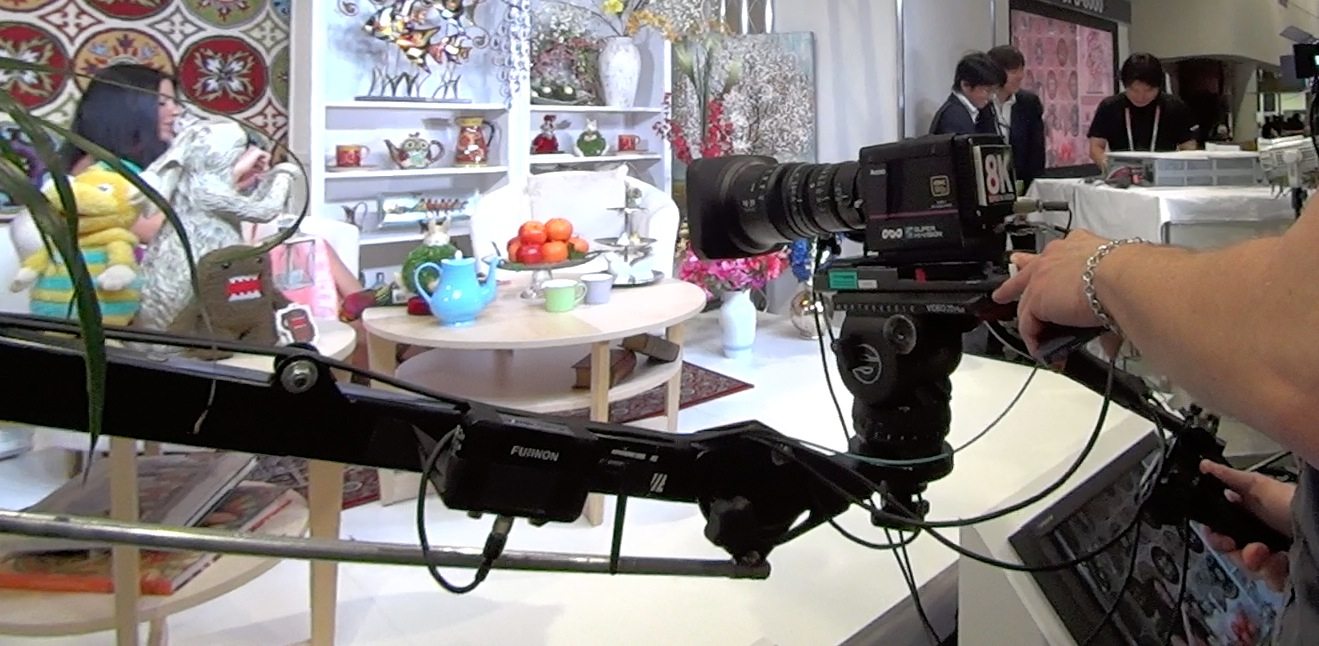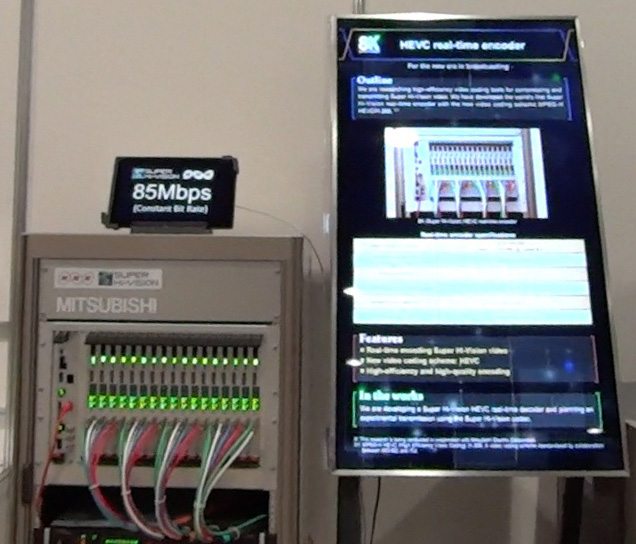 4EVER: 4Ever showed demos at NAB 2014 of MPEG DASH. The DASH demo featured a way to deliver content that's adaptive, bit-rate streaming. It has four different HEVC encodes of original 4K content that it encoded at several bit rates, including a 14.5 and 11.5 Mbps for 4K content, 5.8 and 3.7 Mbps for a 1080 version, and a 720 version of that, which can stream at 2.9 or 1.8 megabits per second. The monitor runs a Chrome browser with HTML5 support which can only show a 4K/30 frame image. To show adaptive streaming, they randomly switched from one bit stream to the other, showing this data on the monitor.  The changes were seamless, but you do see a change in picture quality.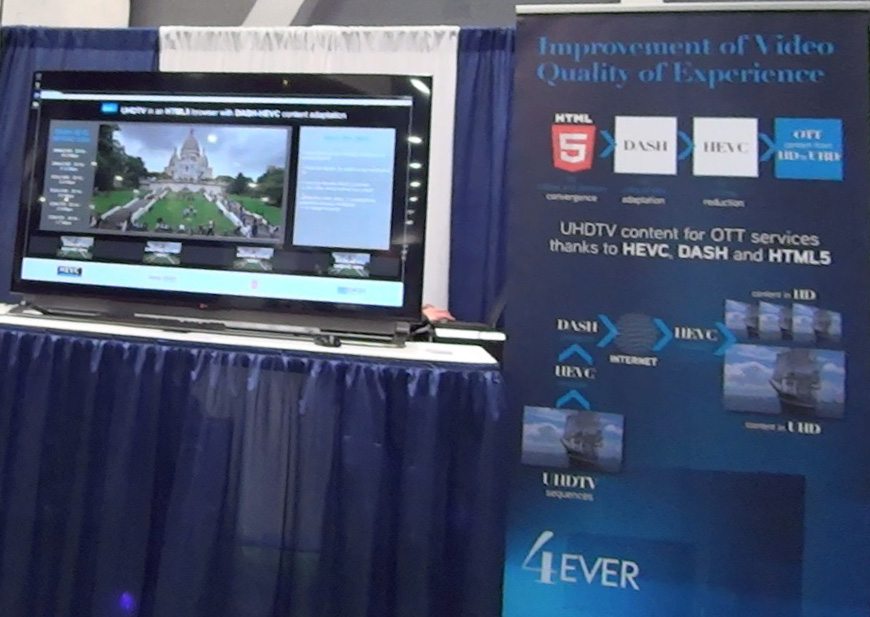 VISION 3 IMAGING: Vision III Imaging demonstrated 4K 60p parallax scanned imagery and its Real Shot™ parallax induction technology. Parallax scanning is a technique for capturing three-dimensional depth information over time using one  camera and one lens. V3 imagery can be displayed on a standard display without 3D glasses or special screens. Real Shot is a parallax induction technique that also embeds three-dimensional parallax information into Internet or mobile digital advertising. Parallax scanning is accomplished using a digital parallax scanner (DPS). The DPS is a moving iris mechanism that is inserted into the optical path of a lens. When the iris is moved off the center of the lens, it records a different point of view at the plane of focus. The DPS iris scans in a circle around the center of the lens, making it possible to capture 360° of parallax information using a single lens.
RENEWED VISION: With its new Multiple Screen functionality, ProVideoPlayer 2 ($999) makes it easier than ever to create multi-screen presentations from a single computer with support for multiple graphics cards and easy mapping within each card and across multiple cards. Users can also add external graphics processors to each one of these graphics card outputs for even more screens, as well as add outputs that are not yet connected to a physical output, allowing shows to be pre-built off-site prior to the event. PVP 2 supports Multiple Layers, which afford the flexibility to create unique looks and allow the user to take full advantage of multiple screens. A layer is merely a video channel, so multiple layers are also great for a single screen environment where layering, textures, or PIPs are desired.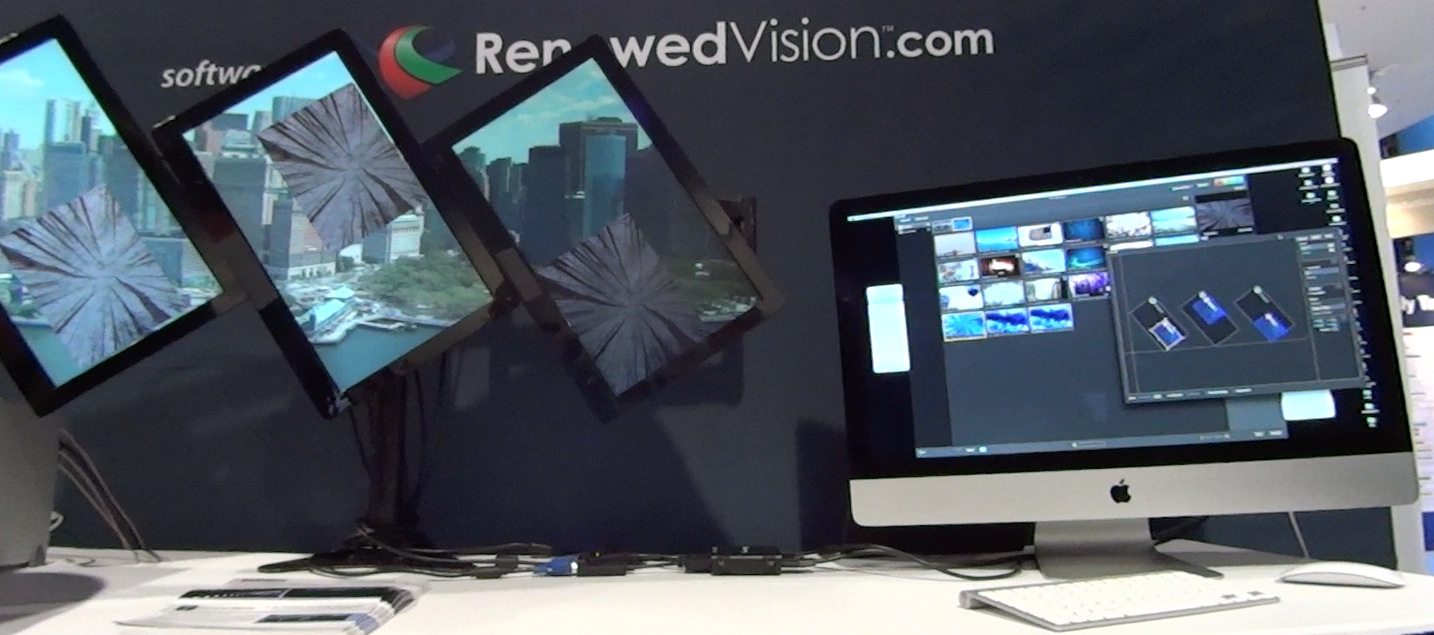 THUNDERBOLT 2 Mobile 4K Workflow: HP showing 4K real-time streaming off a BMDC and 4K real-time playback from thunderbolt 2 little big disk all run through HP's new Z series Laptops on a 21:9 screen.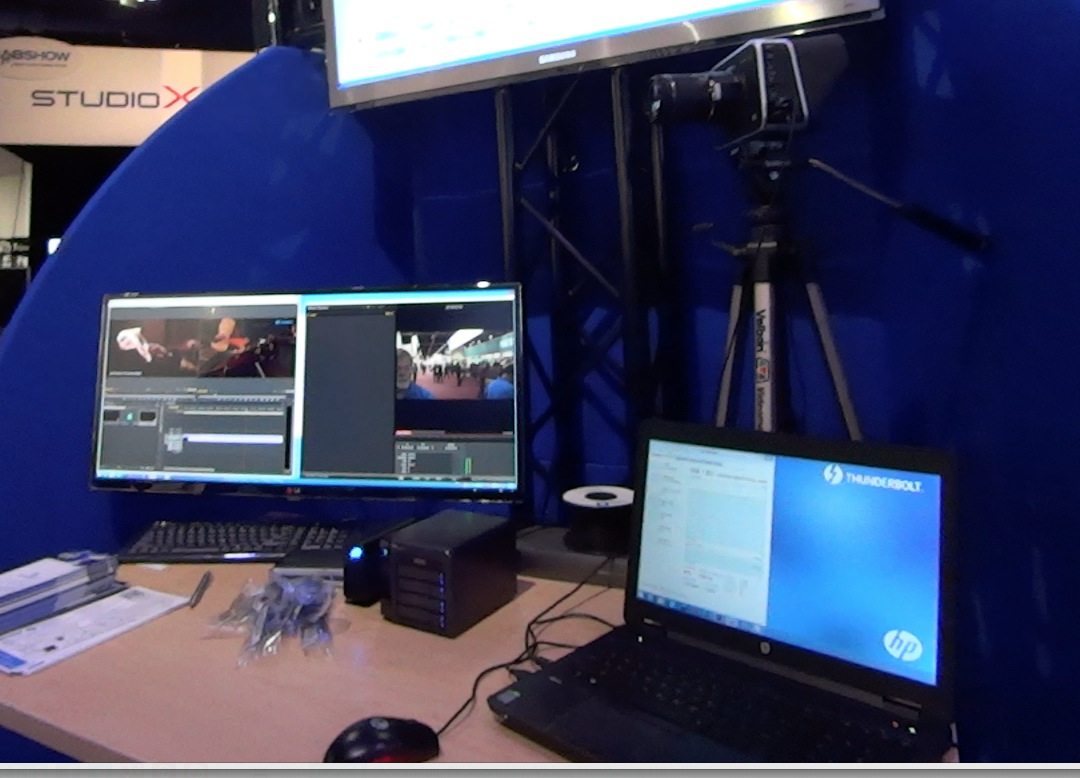 SILICON POWER: Silicon Power Thunder T11 is not only the lightest but also the smallest Thunderbolt™ SSD on the market. Featuring extremely small and featherweight design, Thunder T11 is half the size of ordinary storage devices and only weights 65g. Silicon Power's Thunder T11, which enhances storage solution with Thunderbolt™ SuperSpeed I/O technology, is three times the speed of USB 3.0 HDD and delivers transfer rates up to Read/Write 380MB/340MB/sec.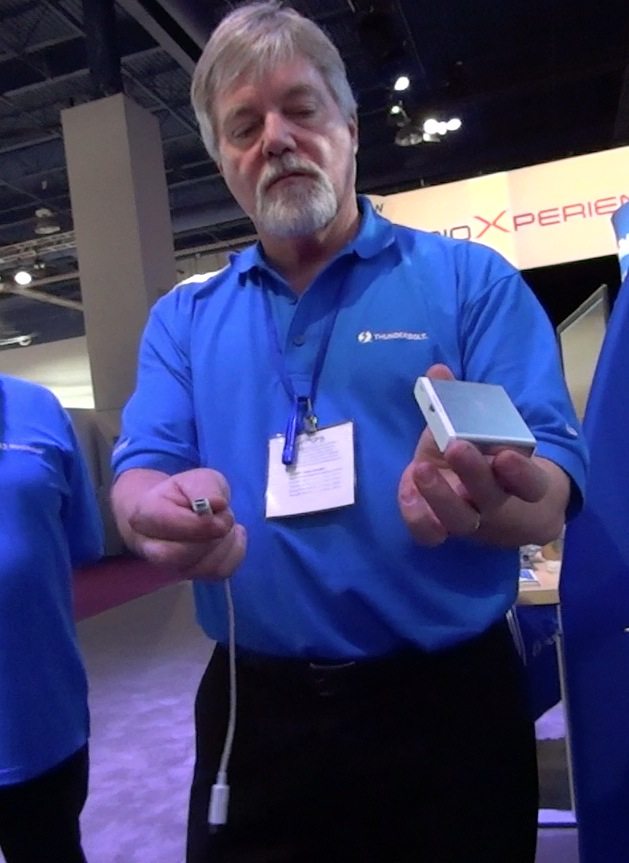 360HEROS: 360 degree shooting Hexacopter using 3-D printed Go-Pro3 mounts.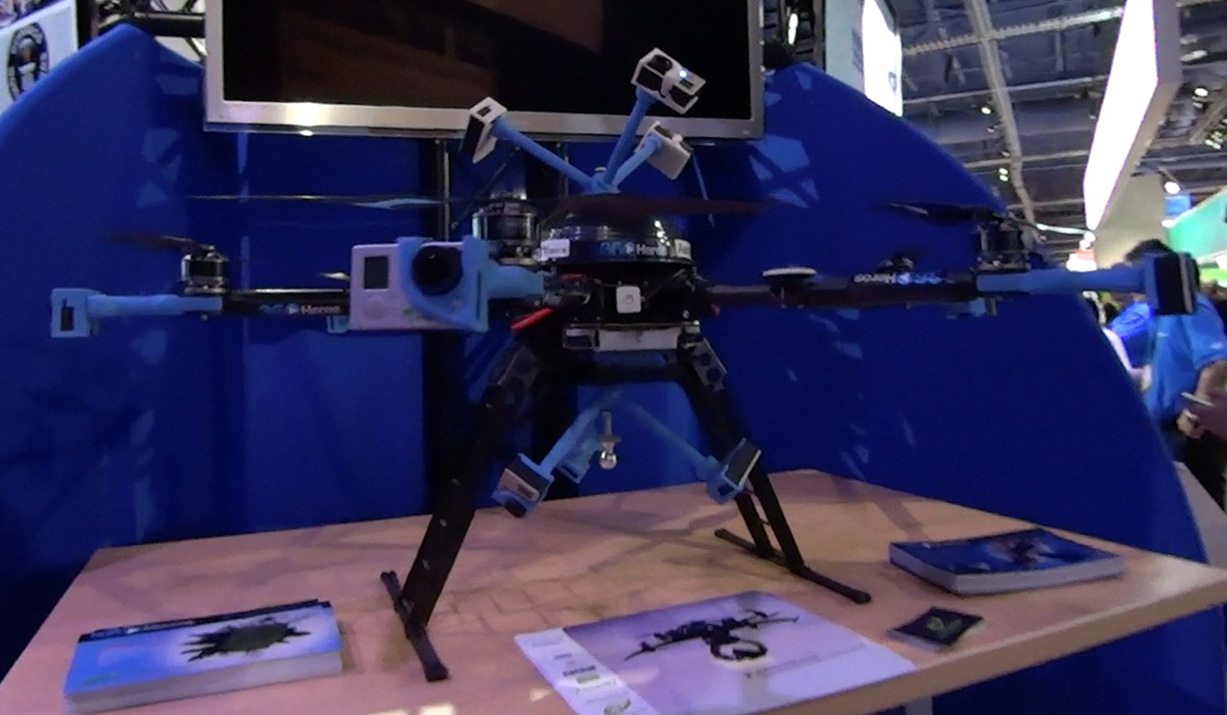 ERICSSON: Showing 100 Mb/s (4x25Mb/s) live UHDTV broadcast using DVB-S2 extensions to broadcast true 4Kp60 over the air.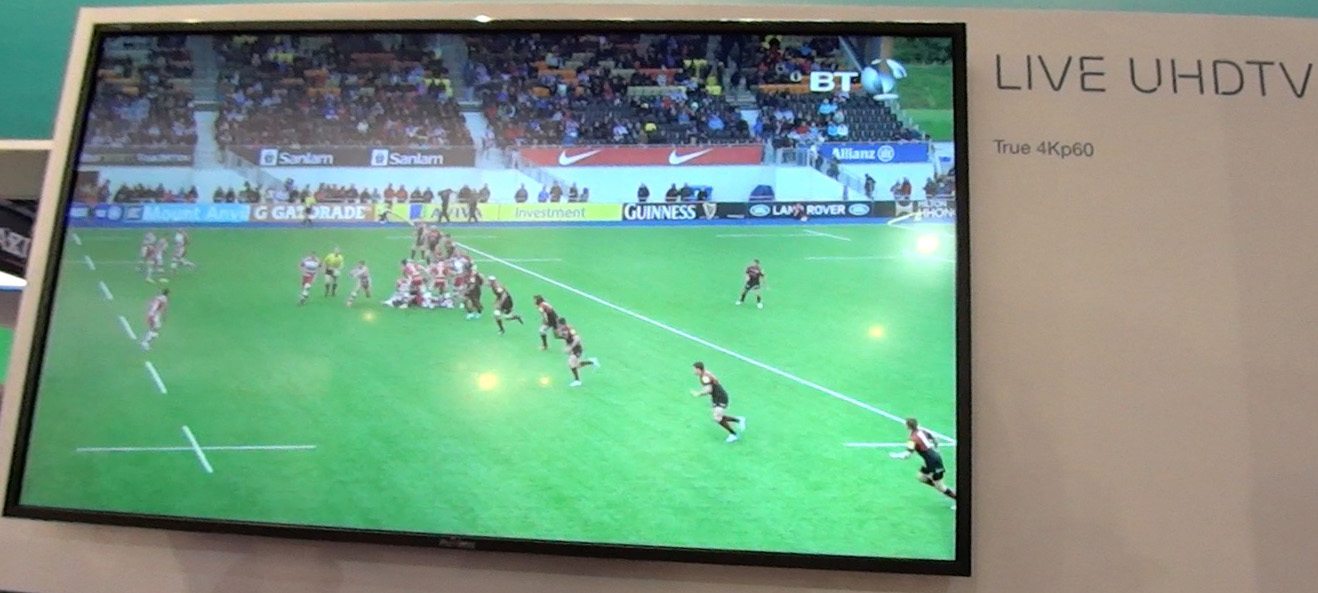 LACIE: The LaCie 8Big Rack is the company's first Thunderbolt 2 rackmount storage solution, featuring up to eight 6TB 7200RPM hard drives and delivering speeds of up to 1330 MB/s. The 8big Rack also features easy access to components and tool-free maintenance of the included power supplies units, fans, and disks, all while offering a cooling system with three fans that conducts heat away from vital components. The 8big Rack will be offered in 4-disk (12TB) or 8-disk (24TB and 48TB) configurations.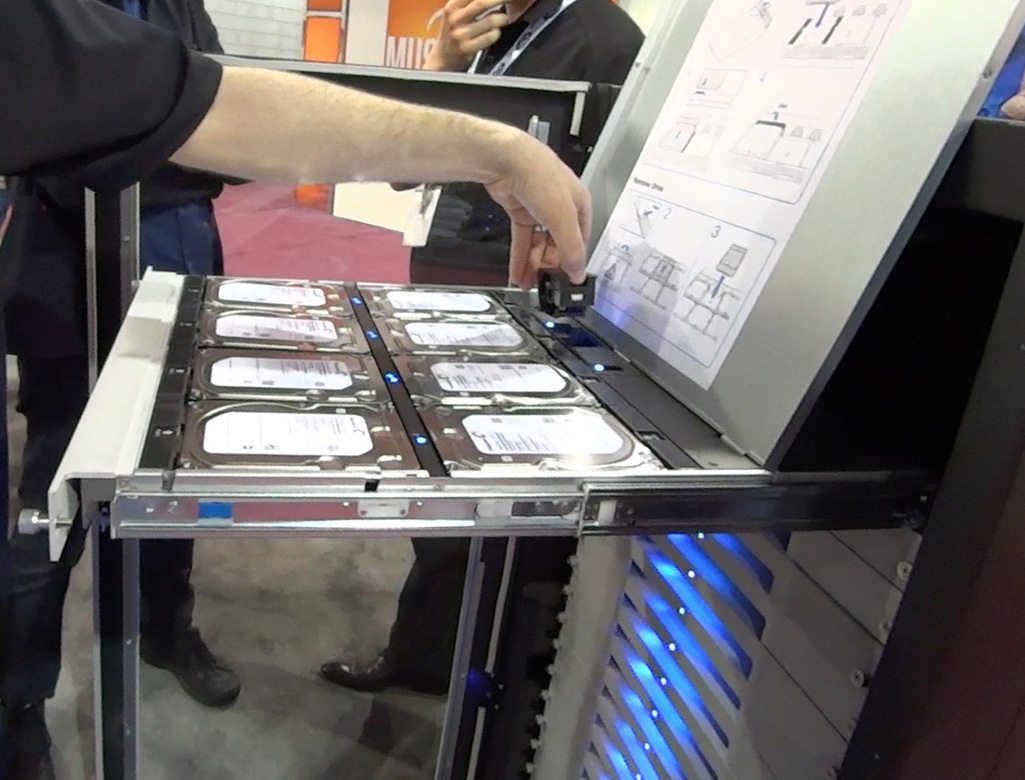 SKYPE: Skype has been an essential tool in the production of podcasts and newscasts for years, and today Microsoft has announced a professional-grade version of the app designed specifically for the media industry. It's called Skype TX and is intended to be used in studio environments; you won't be using this to record a podcast in your bedroom. Skype TX is described as an "easy-to-use hardware and software combination that allows Skype video calls from anywhere in the world to be seamlessly integrated into any production." It plays nice with industry standards by outputting calls in full-frame HD-SDI formats.
LIVESTREAM: Livestream announced a pair of production switchers: the HD510 and HD1710. The HD510 is a portable version with an integrated touch display, yet it's still full featured with 5 SDI inputs. The rack mounted HD1710 is at the other end of the spectrum. It features up to 17 inputs and can drive 4 displays. They also announced Livestream Studio Control Surface a modular control surface with 5 assignable tracks, T-Bar and audio mixer and USB connection to Livestream Studio.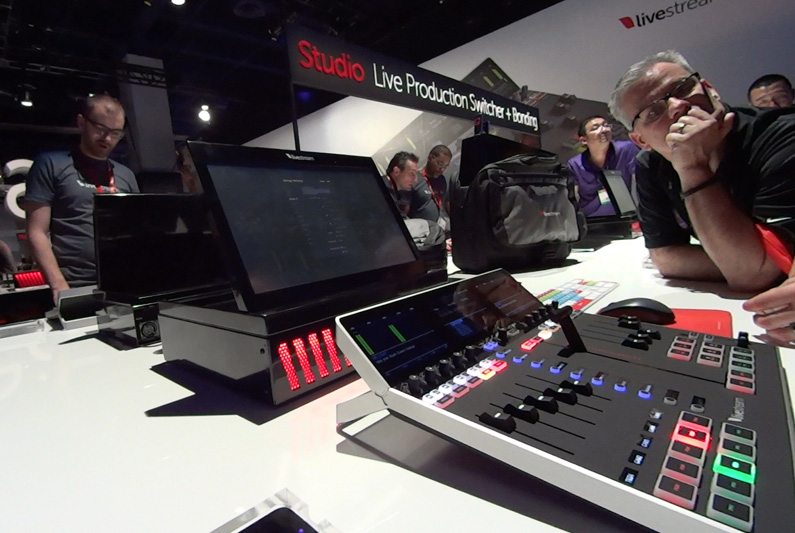 AJA: CION™ is the new 4K/UHD and 2K/HD production camera from AJA. Record directly to Apple ProRes 422 and 444 at up to 4K 60fps or output AJA Raw at up to 4K 120fps.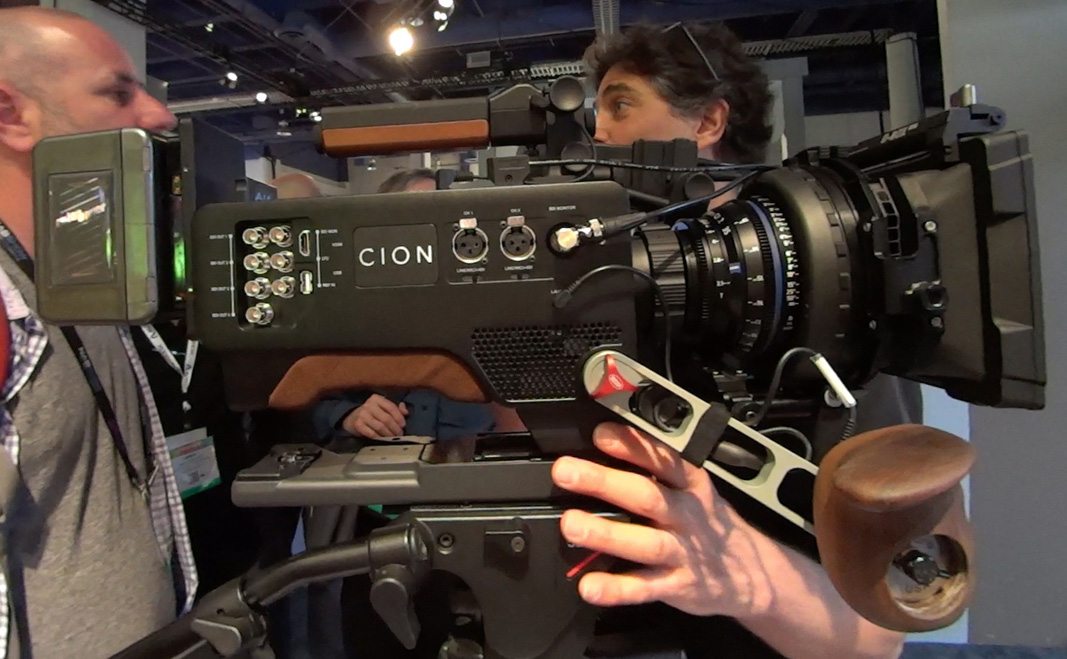 DIGITAL BOLEX: Digital Bolexs' new monochrome 16mm camera, dubbed the D16M, has the same form factor as the original D16, but there's a significant change under the hood. D16M sports a native black and white sensor for highest quality monochromatic capture without the need to debayer, retaining a higher sensativity to light and preserving the full dynamic range of the sensor.
Here are the technical specs:
Kodak native monochrome sensor
Same resolution options as D16: Super 16mm (2K), 16mm (HD), and Super 8 (720p)
No OPLF filter to further maximize fine details
ISO 100, 200, 400, 800
BLACKMAGIC: The new Blackmagic 4K URSA camera is weird, featuring a 4K Super 35mm global shutter sensor, real camera form factor, a built-in 10.1″ 1920 x 1200 fold out display, and two 5" 800 x 480 displays. Not only that, but it has both interchangeable lenses and sensors, meaning you'll be able to upgrade to a better sensor at home removing a few screws when a better one is available. Here are the specs: 
21.12mm x 11.88mm — Super 35mm Global Shutter 4K CMOS Sensor (Probably the same as current Blackmagic Production Camera 4K)
Interchangeable Lens Block
3840 x 2160 — 24/25/60fps
1920 x 1080 — 24/25/30/50/60fps
ProRes HQ and Lossless Compressed RAW
12 Stops Dynamic Range
EF/PL/B4/ or No Mount
Two CFast 2.0 Slots for Media Recording
1 x 10.1" 1920 x 1200 Fold Out Non-Touch Screen
2 x 5" 800 x 480 Touch Screens
SDI Video Output: 1 x 12G-SDI 10-bit 4:2:2. 1 x 3G-SDI down converted for external monitoring
SDI Video Input: 1 x 12G-SDI
Ref Input: 1 x Reference Input
Timecode In/Out
2 XLR Inputs
2 SDI Audio Out
Headphone Jack
1 x 2.5mm LANC for Rec Start/Stop, Iris Control and Focus.
Power: 12V 4-pin XLR In/Out (Can take battery plates for Gold Mount and V Mount)
Availability: July?
Blackmagic also seeks entry into the broadcast-camera market with its newly announced Studio Camera, available in Full HD and 4K (Ultra HD) models. Designed for live broadcast applications, the Blackmagic Studio Camera sports a unique design with a massive 10″ LCD screen, built-in 4 hour battery, and a set of features you'd expect to see in large studio cameras, such as built-in talkback and tally indicators. Intended to meet the needs of a variety of live broadcast applications, the Blackmagic Studio Camera provides the connections required to fit into those environments. Connections include SDI (3G on the HD version and 12G on the 4K version) and optical fiber video inputs/outputs, XLR audio connections, reference, LANC remote control, and a 4-pin XLR power input. The camera features an active Micro Four Thirds lens mount that is compatible with a wide range of lenses via third-party adapters, opening the door for the use of common DSLR lenses to PL-mount cinema lenses, and even B4 ENG lenses.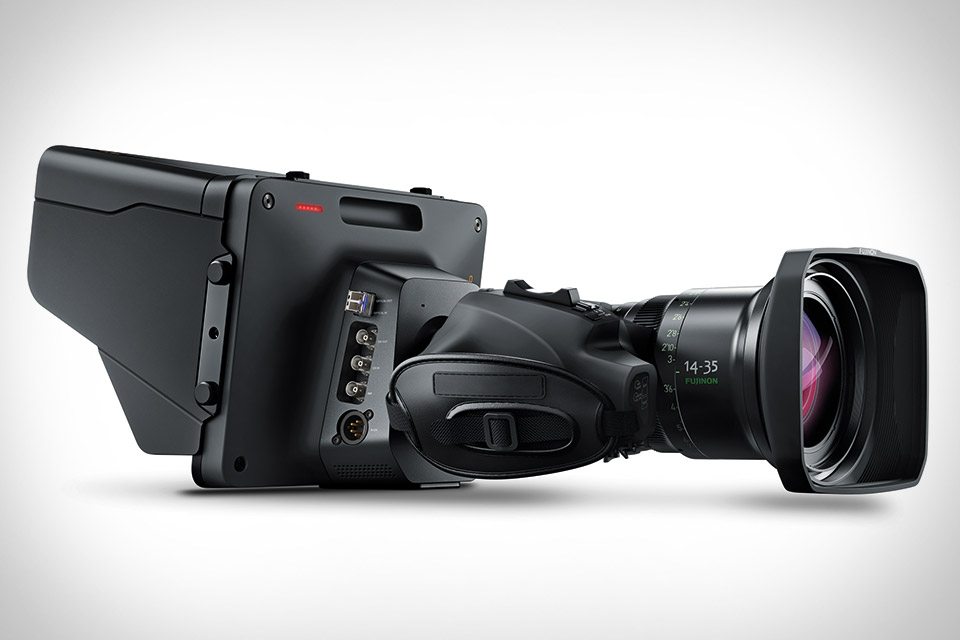 SOLOSHOT: The surprisingly affordable soloshot 2 ($399) will follow a tracker that someone can wear or you can slap on something so you don't have to do a thing. Put on the tracker, set up your camera with SOLOSHOT 2, and catch a wave with the perfect video. It features vertical tracking, automatic zoom, and the kit even includes a tripod for you to get started. It's got a range up to 2,000 feet and 360 degree horizontal tracking.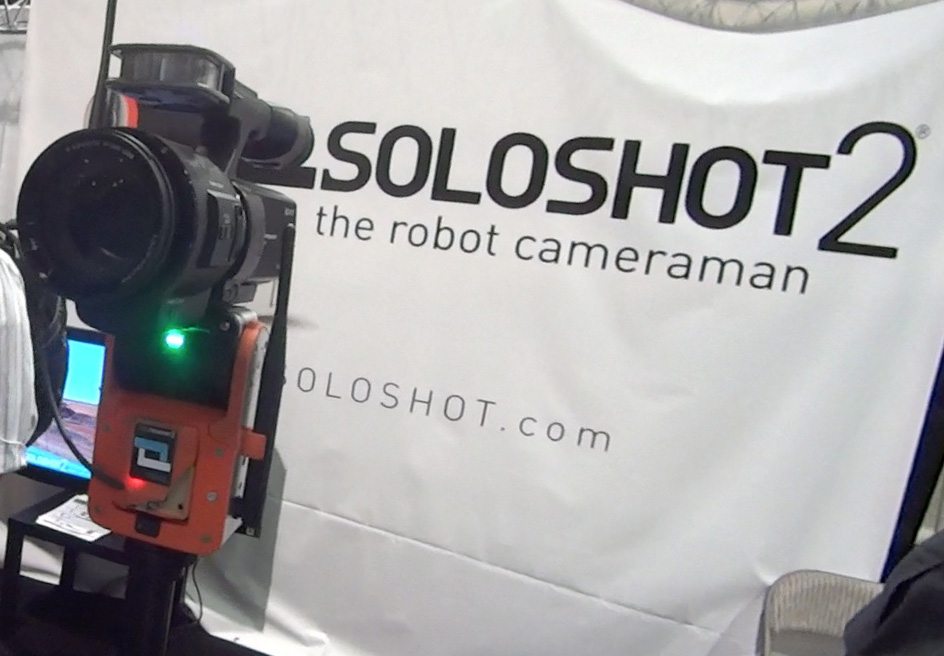 BRUSHLESSGIMBALS: Gimbi™ is a lightweight, easy to carry, simple to use, power-and-go, 2 axis handheld brushless gimbal for the GoPro. With Gimbi™, you can shoot videos and photos as smooth as the pros.
Key Features
– Adjustable cellphone stand permits use of cellphone as monitor
– Super-smooth tilt control with thumb pad (Controllable pitch 90 degrees)
– Increased auto leveling accuracy and battery efficiency due to built-in brushless motor encoders.
– 2 hour use time on one charge
– Includes four rechargeable batteries and battery charger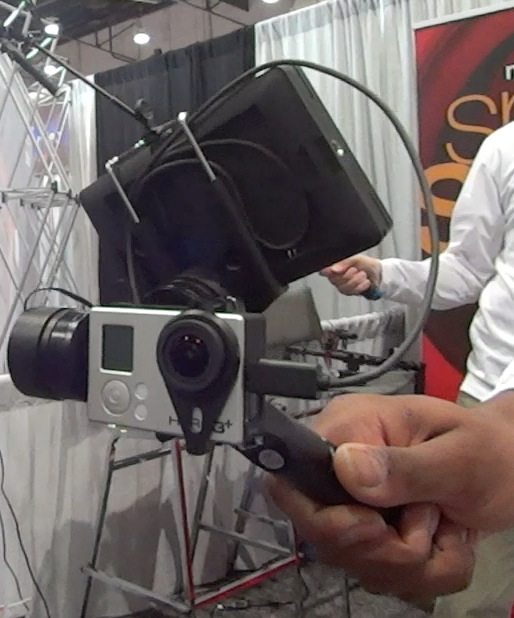 JIGABOT: Jigabot's AIMe is a pill-shaped tripod mount that automatically follows your subject—keeping it in frame—in case you're shooting video by yourself. It uses infrared markers and swivels and tilts using complex algorithms powered by a quad-core ARM processor.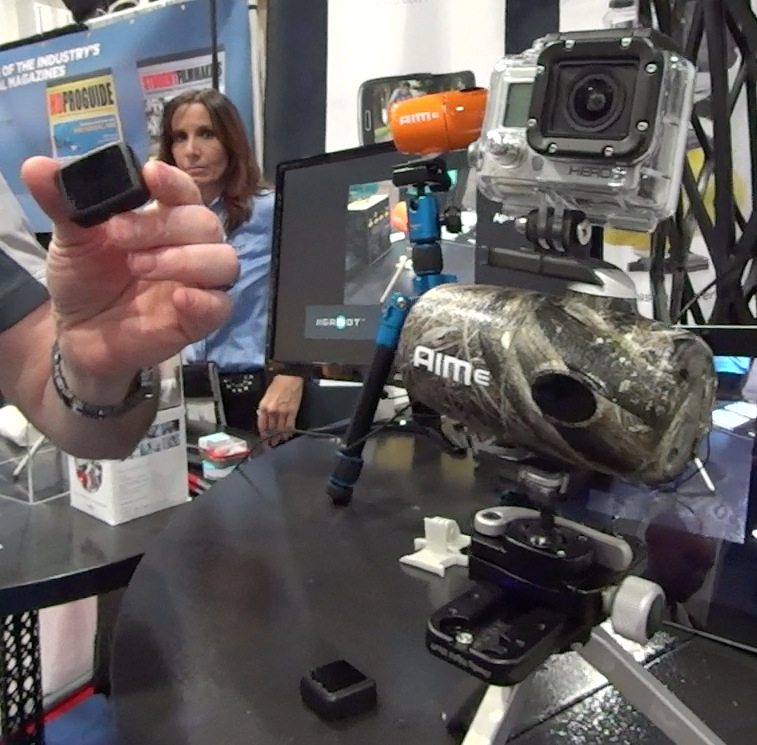 CEREVO: Crevos' LiveWedge ($999) provides easy control via smartphone/tablet app. The rotary control unique to the app enables slow transition, which is more difficult with a physical T-Bar. LiveWedge supports PiP and chroma key as well as all the basic transitions such as wipe, fade, cut and etc. Livewedge has a SD card slot and users can record 1080/30p (H.264) Full HD Video on it while switching! You can also use videos and images from the SD card as the video source. Streaming is built into LiveWedge. 720/30p HD Live streaming and 1080p HD video switching are available in one device! Supported streaming platforms include Ustream, Youtube Live and your own servers are all supported.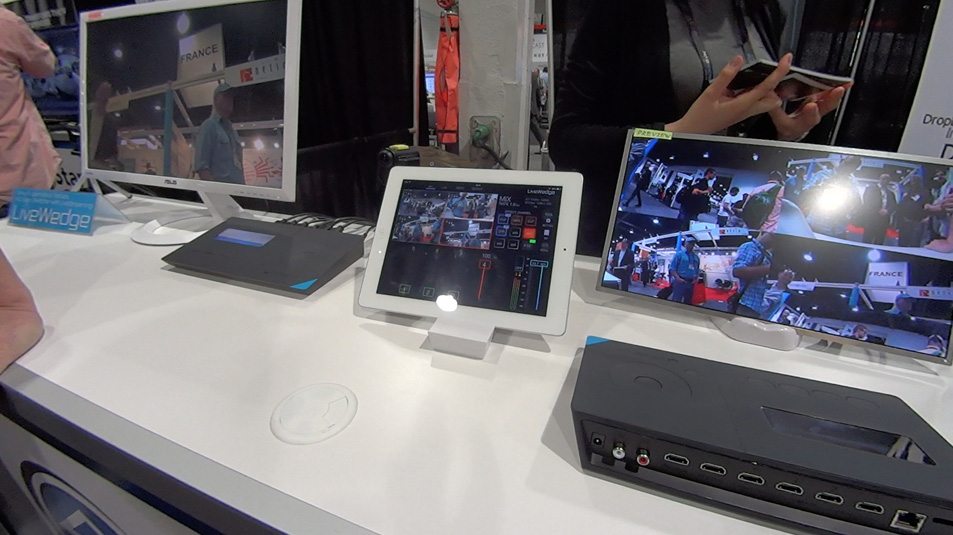 PESA: PESA showed their brand new Xstream Live Streaming mobile solution, co-developed by Ryerson students. They also received the NewBay Media Best of Show Award at NAB.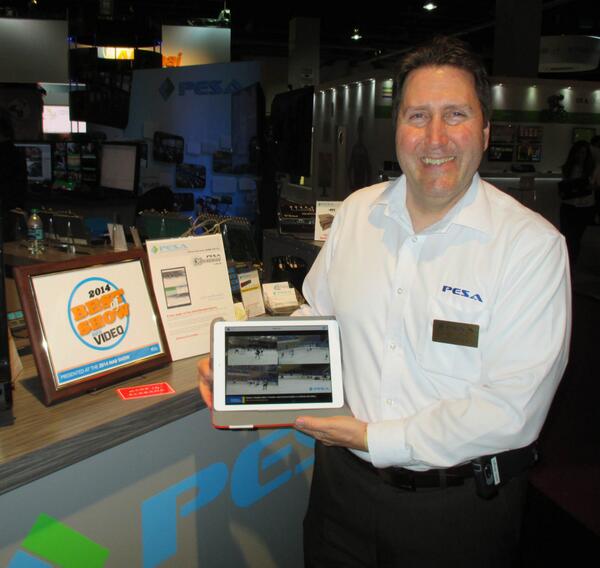 COMREX: Comrex LiveShot™ delivers live video over a range of IP networks. LiveShot is used by TV stations and networks to deliver high quality, low latency (200ms) video from anywhere Internet access is available. LiveShot is especially optimized to perform well on challenging IP networks like 3G, 4G and satellite links. For optimal video quality, LiveShot encodes with H.264 HIGH profile. In addition to standard AAC audio coding, LiveShot utilizes HE-AAC and AAC-ELD audio coding, both reducing network bandwidth and lowering delay. LiveShot can encode and decode an audio/video stream with less than 200mS delay. LiveShot delivers full-duplex video and stereo audio between the field portable and studio rackmount systems. In addition, a full-duplex cue channel is available between the portable and studio units. On the portable, the return audio/video channel is delivered via output connectors. The cue channel is accessible on the portable via wired headset or Bluetooth audio to a wireless headset
PANASONIC: The Lumix GH4 camera body and its 16MP CMOS Micro Four Thirds sensor will cost $1700, while the optional YAGH pro audio/video interface unit is available for an extra $2,000. The GH4 can shoot 4K at 30/25/24fps at 100Mbps using ALL-Intra compression. At 1080p that rises way beyond broadcast standard to 200Mbps. There are two 4K formats available too: the standard 3840 x 2160 resolution at 30/25/24p, or the cinema widescreen 4096 x 2160 resolution available at 24p only. When writing to SD card the camera captures 4K video with 8-bit colour and the data rate is limited to 100Mbps. Use an optional accessory – the Panasonic DMW-YAGH, which is about as big as the GH4 body – and its four SDI ports that can be used in tandem to extract uncompressed 4K at 10-bit colour. Power input, independent volume adjustment and twin XLR sockets ensure everything a broadcast pro is here – but only via the DMW-YAGH.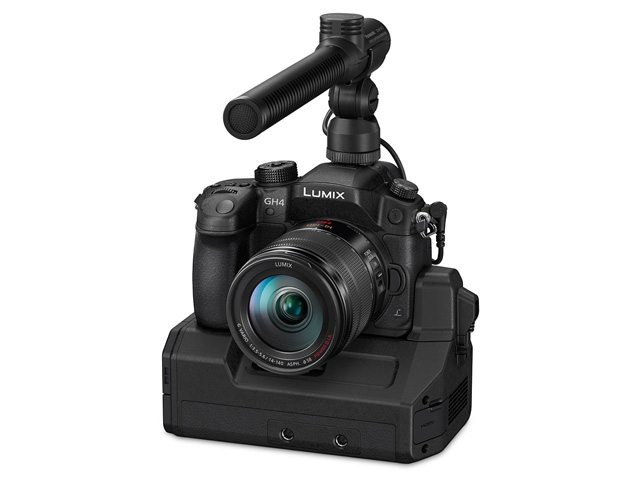 The HX-A500 shoots a resolution of 3840×2160; so ultra HD. Sub 4K resolutions include 1080 up to 50p, and 720 up to 100p. Un surprisingly it shoots to an MPEG-4 AVC/H.264 codec in an .mp4 wrapper.
The camera has a perhaps slightly disappointing variable bit rate, half that of the GoPro Hero 3+. Here's the breakdown:
3840×2160/25p (Max. 72Mbps / VBR)
1920×1080/50p (Max. 28Mbps / VBR)
1920×1080/25p (Average 15Mbps / VBR)
1280×720/50p (Average 15Mbps / VBR)
1280×720/25p (Average 9Mbps / VBR)
The camera has a fixed focal, fixed f/2.8 aperture lens. It has a few different white balance presets including Auto / Indoor1 / Indoor2 / Sunny / Cloudy / White set. The shutter is listed as variable, from 1/25th-1/12000. The HX-A500 has an in-built image stabilizer, with an angle of view currently listed as only 160°.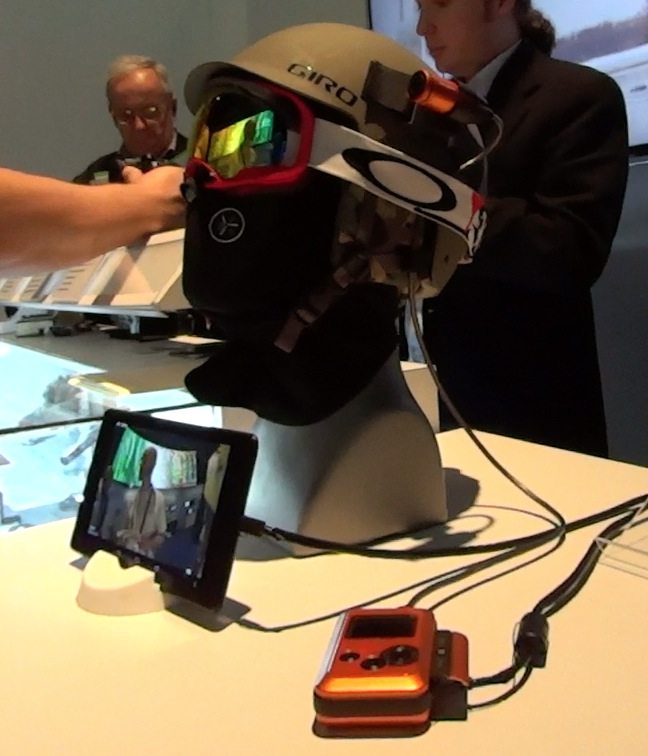 JVC: JVC has now also entered the large sensor market. And that this intriguing little camera covers super35mm on an MFT mount. In terms of specs the JVC GY-LSX2 has some really intriguing figures to offer. Not only is it very small and looks very ergonomic to handle, but it offers 4K with frame rates up to 30p as well as a slow motion feature at 2K resolution that will go up to 240fps. The footage is being recorded internally with an h.264 kind of codec. The JVC GY-LSX2 is announced with a price point "under $6000″ and to come at the end of 2014.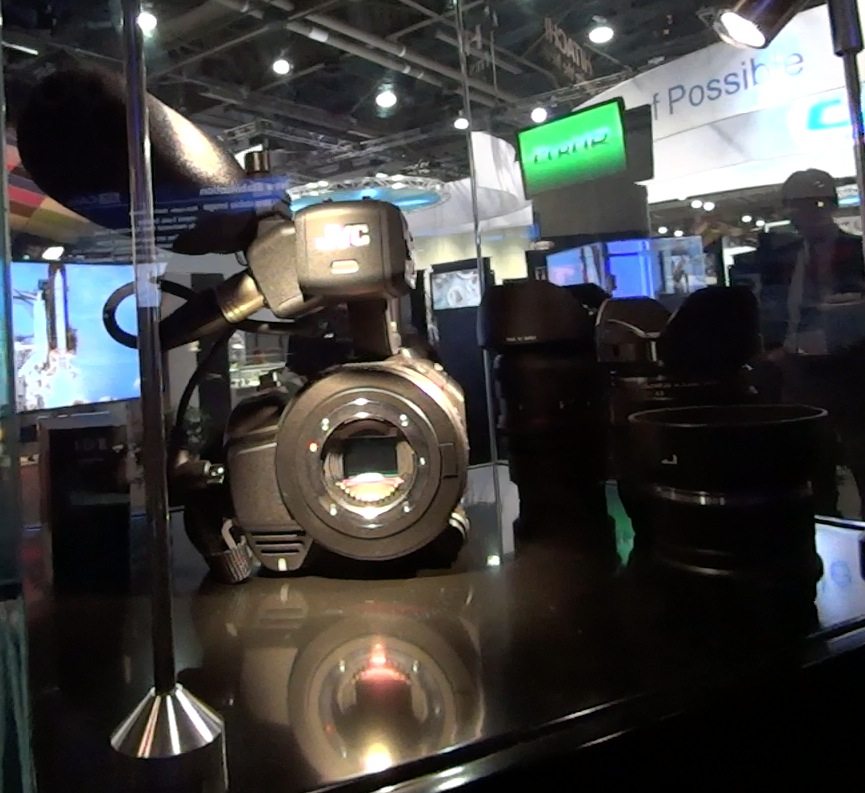 The bigger brother, called GY-LSX1 will feature a higher framerate (60p) at 4K resolution, offer a shoulder-mount form factor and seems to come in at around twice the price of the small one.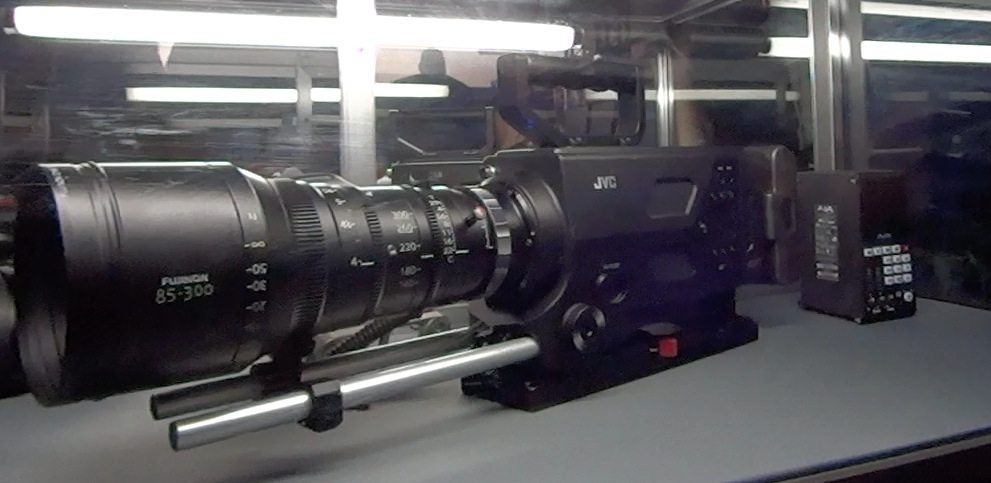 That's it for now……This years buzz words: 4K, UHDTV, HEVC, H.265, OTT (Over The Top)….see you all next year :-)