Let me guess…..you tried it and it failed. Well, there is a way (probably not sanctioned by MS) to get this done. I've installed it on two separate machines and verified that it works. First you need to download MSXML 6 from Microsofts website. Just go to microsoft.com and search for MSXML. There should be a link to MSXML6.0 download. Download the 64-bit version of the software and install it. Then force a windows update by choosing windows update from the start menu. You will notice a bunch of updates for MSXML. Let it update the files and reboot after that's done.
Now you need to get the x86 version of office 2010 off the cd and copy it onto your computer somewhere (I just dragged the folder onto my desktop). We need to modify something and you can't do that on the CD/DVD. Once the copy is done, find setup.exe right click on it and choose properties. Under the Compatibility tab choose "Run this program in compatibility mode for:" and choose Windows XP from the pull down.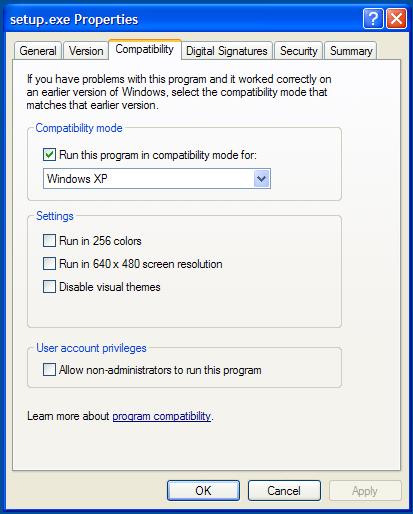 Click Apply/Okay and double click setup to run it. That's it. It works…..Happy days are here again :-).