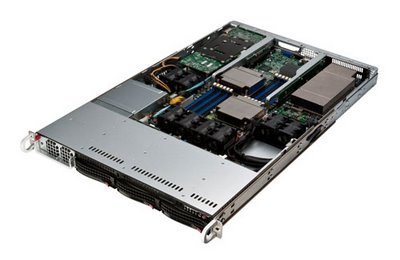 Yep, just leave it to Nvidia to do all the cool stuff…..I wonder how long it will be before a GPU centric OS (Ninux/Nubuntu anyone?) comes out that will squeeze that GPU for all it´s worth. Intel should be worried :-).
NVIDIA Corporation and Supermicro today announced the immediate availability of a new class of server that combines massively parallel NVIDIA® Tesla™ GPUs with multi-core CPUs in a single 1U rack-mount server. This unique configuration delivers 12 times the performance of a traditional quad-core CPU-based 1U server.

Supermicro is first to market and is demonstrating the NVIDIA Tesla-based SuperServer 6016T-GF-TM2 at Computex 2009 in Taiwan this week
The new Tesla GPU-based SuperServer, delivers a much higher performance-per-watt and per-rack than any other 1U solution in the market today, 2 Teraflops in 1U to be more exact…..WOW….nice.