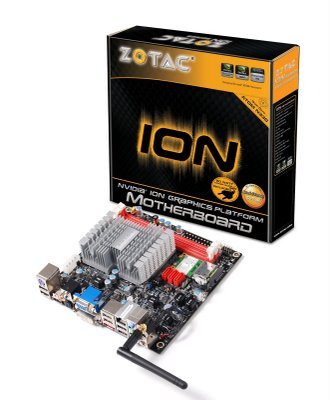 I was looking for a fast small (read: mini-ITX) mobo that had enough power to drive 1080P monitor/panel and I came across Zotac IonITX-A-U board. According to manufacturer's website:
The mini-ITX form factor ZOTAC® ION combines a high-performance NVIDIA® ION graphics processor with a power-efficient Intel® Atom processor for the ultimate eco-friendly platform that has no troubles handling regular web browsing, e-mail, & productivity and HD video playback tasks.

NVIDIA® PureVideo HD technology harnesses the power of the ION's 16 high-speed stream processors for high-definition Blu-ray playback capabilities. PureVideo HD technology decodes HD video formats and enhances standard-definition videos with the ION GPU for flawless HD and superior SD video playback.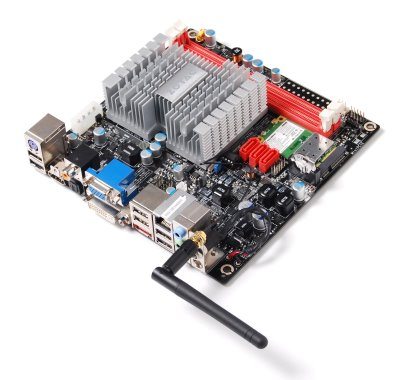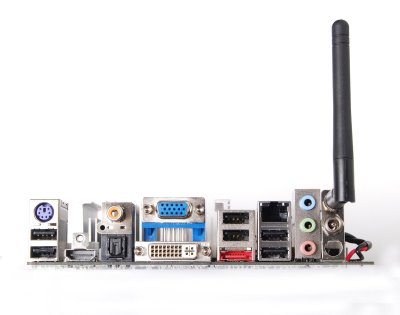 Sounds and looks very nice and capable. I guess I'd have to pick one up and give it a whirl. Here are the quick tech specs:
Onboard Video: GeForce 9400M
Onboard Audio: 5.1
Model: IONITX-A
CPU Socket: 441-ball
FSB: 533 MHz
Dimensions: 6.7″ x 6.7″
Chipset: MCP7A-ION
Memory Type: DDR2 667/800
Package Contents: 3 SATA cable 1 SATA power cable 1 WiFi antenna 1 WiFi bracket
Memory Slots: 2×240pin
SATA: 3 + 1 eSATA
PCI Express x1: 1 (mini)
Form Factor: Mini ITX
Video Ports: D-Sub + DVI + HDMI
USB: 10 (6 on back panel, 4 via pin header)
Power Connector: 24 Pin – 90 Watt PSU included
PS/2: 1
RAID: 0/1/0+1
mini-itx.com has a nice review and sells the board aswell.