Imagine if you could hide your 16 Core, Quad GPU, Nitro burning gaming PC in the closet in the basement. What if you could build the next University lab where all the highpowered CAD workstations where humming away in the machine room and you could actually "teach" in a quite classroom/lab. Fill in the rest of the scenarios yourself. The next wave in thin client computing is here and it's name is Teradici. They don't really make a end user product (they just make the custom compression chipsets), but companies like Leadtek have end user products on the market now.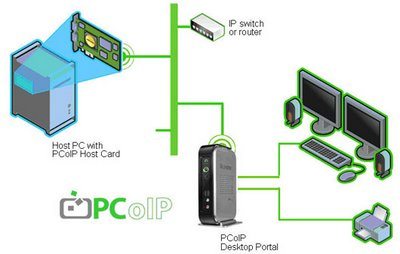 Integration of Teradici's PCoIP remote enterprise desktop technology in Leadtek's WinFast VP200 enables delivery of a high-definition graphic and multimedia experience across standard IP networks, unmatched by any thin client on the market today. For $800 per link, $400 on each side of the link, Teradici provides a PC-over-IP host card, to be embedded into the host unit (most likely a workstation), and a desktop portal, a device slightly bigger than a hardcover book, equipped with a Teradici processor chip, 4 USB ports, and an HD audio output, and dual DVI outputs. The desktop portal and the host unit are linked via LAN, WAN, or a wireless network, allowing the user to communicate with the back-end PC.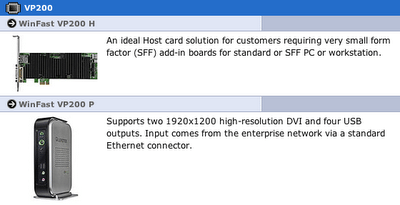 The WinFast VP 200 system includes a WinFast VP200H host PCI Express card and a WinFast VP200P desktop portal. The Host Card allows you to centralize your computing in a data center as an add-in solution to your existing Workstation, Rack Mount, or Blade Server to secure all data and computers; On the desktop, a stateless device called a Portal connects over a standard enterprise IP network to the Host Card, eliminating heat, noise, and clutter at the end user's desk for a comfortable working environment.
AND DID WE SAY IT'S COMPLETELY GPU AND OS INDEPENDANT. SO GO GET ONE :-).