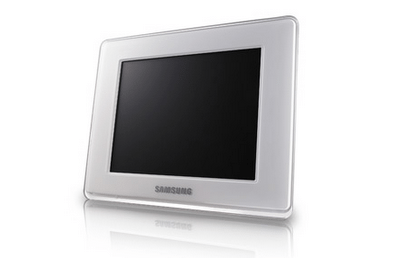 So I picked up one of these from future shop today. I was skeptical about the RSS feed capabilities of it, but figured that worst case I would return it. Well I'm glad to report that after playing around with it for the past 4 hours, it's staying. This thing is really cool. Here is a quick rundown of the specs:
8″ Screen
800×600 px resolution
200 cd/m2 brightness
500:1 contrast ratio
64Mb built-in memory
SD/MMC/MS/xD/CF memory card
2 USB ports (1 up and 1 down nstream port)
JPEG, MP3, Mpeg1, Mpeg4 and WMV9 file formats
802.11 b/g
Pictures can be loaded either from the web via RSS or Windows Live Space or from memory card. I know for a fact that it supports SDHC cards atleast up to 8GB (largest one I had handy). Web Photos (thank god) need to be configured via the built in web interface. Basically you configure the device for your network and point your browser at the IP address on port 5050 and you'll be presented with the interface like below where you put in your RSS and Windows Live Space URL's. One thing to note, it does not understand feed:// but if you change it to http:// everything seems to work.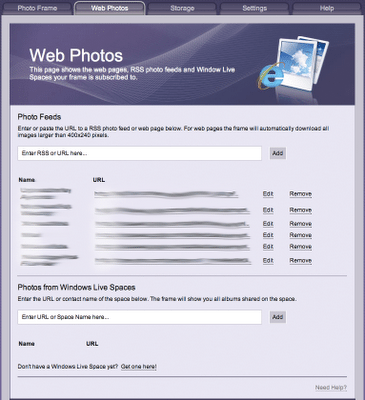 Not sure what the maximum number of feeds are, but I've tried googles picasa, flickr and a custom yahoo pipe that outputs RSS and they all worked fine.
Aside from RSS feeds you get the standard picture flipping off memory cards. The "V" version also does Video, which could be useful and there is mp3's for background music aswell.
The cherry on the cake for me — which btw I had no idea the machine did before I bought it — is the fact that if you use windows XP or Vista and install the included Frame Manager software, you end up with a extra display for your windows machine. Granted it's only 8″ diagonal, but it's really cool to have it sitting there with jabber running on it in full screen or a video podcast in full screen. The digiframe can literally act as a extra display for some multihead goodness. That's what the USB downstream N-port is for, if you were wondering. Very nice Samsung, I'm impressed.