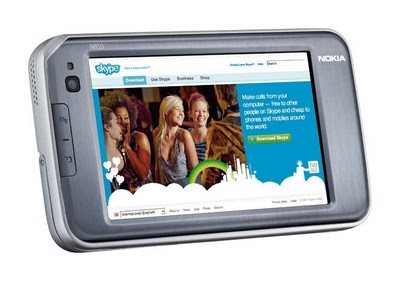 Well today's been full of good news for developers and users alike. Steve J. announced that the Ipod/Iphone SDK will be released in February 2008 and if that wasn't enough Nokia announced their next generation Internet Tablet….the N810. It's basically the N800 on steroids, a slider keyboard plus builtin GPS…..wohoo :-). From the Press Release….
The Nokia N810 is powered by maemo Linux based OS2008, updatable also on the Nokia N800, the previous internet tablet generation hardware. The Nokia N810 features a highly customizable user interface and contains various novelties such as a Mozilla based browser with Ajax and Adobe flash 9, Bluetooth headset support as well as enhanced video and audio features. The refreshed Video Gizmo, Skype and Rhapsody highlight some most popular downloads available while Boingo Wireless, Earthlink and The Cloud enable Wi-Fi connectivity, across thousands of different locations globally.
The Nokia N810 has an integrated GPS receiver which allows you to pinpoint your position and find a wide variety of points-of-interests using the pre-loaded maps. Upgrade to Wayfinder's voice-guided navigation for turn-by-turn directions and explore the world on foot or in the car.
So get ready and start saving up. Ipod (or if Rogers gets it's act together) and Iphone first, N810 with all the sweet tech inside plus the ISDK in Feb…..Next year will be a busy Dev. year :-)