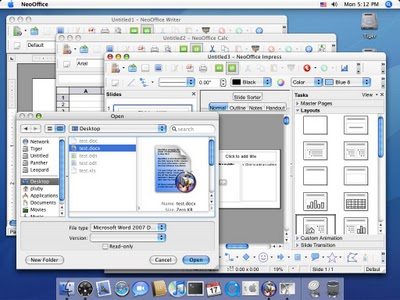 While we're on the subject of saving you some money. NeoOffice, the OSX native version of Open Office, has just released their latest. This release includes support for the Mac OS X Spellchecker and Address Book and experimental support for Office 2007 Excel and PowerPoint files. From the overview page:
NeoOffice is a full-featured set of office applications (including word processing, spreadsheet, presentation, and drawing programs) for Mac OS X. Based on the OpenOffice.org office suite, NeoOffice has integrated dozens of native Mac features and can import, edit, and exchange files with other popular office programs such as Microsoft Office.

Released as free, open source software under the GNU General Public License (GPL), NeoOffice is fully functional and stable enough for everyday use. The software is actively developed, so improvements and small updates are made available on a regular basis.
It is available for free from the NeoOffice download page.