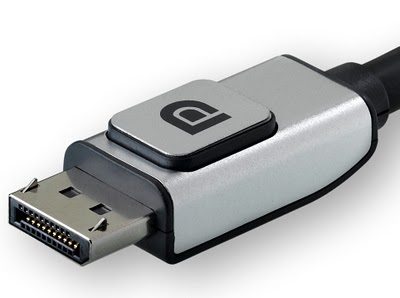 Well, it's taken a bit of time, but I think with the announcement of DP1.2 specs last December, the specs (and hopefully soon the vendors) are ready for True Digital Cinema home implementation. The DisplayPort connector supports 1, 2, or 4 data pairs in a main link that also carries clock and optional audio signals, each with a symbol rate of 1.62, 2.7, or 5.4 Gbit/s. The video signal path supports 6 to 16 bits per color channel. This allows the updated DisplayPort 1.2 specification to drive 4K x 2K display (3840×2160) with 30 bits per pixel and 3D over a single 2m cable.
DP 1.2 supports a maximum of 5.4Gbps per lane, with 4 lanes providing a whopping 21.6Gbps throughput, more than enough for 10-bit 4xHD resolution (3840×2160). To achieve the 21.6 Gbps rate, the per-lane data rate is doubled from 2.7 Gbps to 5.4 Gbps max, over the four lanes that exist in the standard cable. For a single display, this enables up to 3840 x 2400 maximum resolution at 60Hz, or a 3D display (120Hz) at 2560 x 1600.
Display Port 1.2's massive data rate will enable Multiple-Streaming, support for stereoscopic images beyond full HD, a high-speed data channel, and support for mini connectors.

Multi-Streaming — is the ability to transport multiple independent uncompressed display and audio streams over a single cable. This enables the use of multiple monitors connected by cable in a daisy chain or hub configuration. Whereas the current Display v1.1a standard can support one 2560 x 1600 monitor at 60Hz, DisplayPort v1.2 can support two such monitors with one port, or four 1920 x 1200 monitors.
Another new feature is the ability to support high-speed, bi-directional data transfer, allowing USB 2.0 or Ethernet data to be carried within a standard DisplayPort cable. For DisplayPort v1.2, the maximum data rate of this "AUX" channel has been increased from 1 Mbps (Mega-bit-per-second) to 720 Mbps, providing suitable bandwidth for USB 2.0. The DisplayPort cable can therefore support USB data to/from the display to support Display USB functions, in addition to sending the video and audio information. Standard Ethernet can also be transported in the DisplayPort cable.
On the audio front DisplayPort v1.2 adds the following new enhancements:
Audio Copy Protection and category codes
High definition audio formats such as Dolby MAT, DTS HD, all Blu-Ray formats, and the DRA standard from China
Synchronization assist between audio and video, multiple audio channels, and multiple audio sink devices using Global Time Code (GTC)
DisplayPort v1.2 also includes improved support for Full HD 3D Stereoscopic displays:
Life-like motion using up to 240 frames-per-second in full HD, providing 120 frames-per-second for each eye
3D Stereo transmission format support

Field sequential
Side by side
Pixel interleaved
Dual interface
Stacked

3D Stereo display capability declaration
The only thing on my wish-list that they (VESA) omitted is support for true 4K DCinema (4096×2048) resolution. But I guess you can't have everything……and there is always DP1.3 :-).