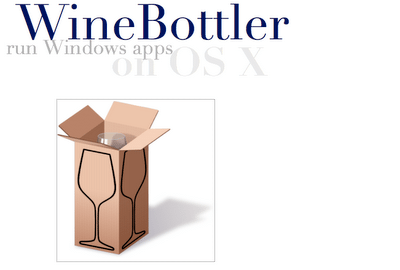 Let's be clear on this, Wine, which is what WineBottler uses, lets you run Windows software on other operating systems. With Wine, you can install and run these applications just like you would in Windows without the need for a emulator or virtual machine. Not every program works yet, however there are already several million people using Wine to run their software.
WineBottler makes it really simple to create a application bundle out of Windows programs that will run on OSX. WineBottler is a tool similar to codeweavers Crossover, where separate prefixes — like runtime environments — are created per app. However, WineBottler 'wraps' or 'bottles' a separate prefix in each application bundle. WineBottler allows standalone (i.e. not requiring wine to be installed) applications to be created as well, by including the wine bundle inside the standalone application bundle.
Additionally unlike Wine which installs files in "standard" unix directories (/opt, /usr/local, etc.), WineBottler has two OSX application bundles that you copy to your Application directory. Very clean install/uninstall. Oh and did I mention that it's free/opensource. The only catch, OSX for Intel only.