So after covering the initial annoucement of Teradici's PC over IP product, I received an email asking to see if I wanted to review the product. I said yes, since we have been looking for a remoting technology to consolidate all our lab PC's and Mac's at the university and we could potentially end up using a Teradici or similar product in the future.
I've only spent 4-5 hours with the hardware and some of that time was wasted as I didn't do my usual RTFM. So please keep that in mind as you read through. The package comes in two parts: the PCoIP Host Card — which is a 1 x PCI express card with the Tera1200 PCoIP host chip — and the PCoIP Desktop Portal, which is a small device that houses the Tera1100 PCoIP Portal
chip and connectors.
The host card simply has two ports, a high density dual DVI port — which is where the supplied dual display DVI dongle hooks up to — and an ethernet port that will provide the network link to the portal device. The two DVI connectors at the end of the dongle connect to 1 or both of your Graphics cards DVI outputs and "steal" it's signal.
The portal device comes with the following remoted ports (in addition to the ethernet port that provides the remoted devices):
4 x USB ports (2 on front, 2 on back)
1 x Audio out (on the back)
1 x Audio in + 1 x Audio out (on the front)
2 x DVI ports (on the back, which correspond to the 1 or 2 DVI ports on the "remote" PC's graphics card).
The portal device is kinda neat. I don't know if Teradici is planning on selling it as a stand alone unit, but if all you want is a remote desktop via RDP protocol (MS Windows only) you can just buy the portal device and use it as a "Dumb Terminal" for your PC.
I did run into a small snag as I was setting up the portal. On one of the ethernet ports in my office — which works perfectly with my other Mac's and PC's in the office — the portal devices link light would not come on…..not sure why. The issue was quickly resolved (after a bit of head scratching) after I switched to another port. The big head scratcher on the portal side was the fact that no matter what I did my el-cheapo MS digital media 3000 keyboard and MS comfort optical 3000 mouse did not work on the portals USB ports. Not sure why, but one nice thing about my work is that I've got my private stash of just about evey keyboard/mouse combination known to man, so I quickly changed it to a Apple keyboard and mouse and everything was happy.
The host card requires NO SOFTWARE which is a blessing, but does require you to read the manual on the supplied CD. I didn't — since it looked to be so simple at a first glance — and had some problems. It took about 30 minutes to realize that the card has a jumper that defines if it gets it's power from a small power connector onboard (default, atleast on my card) or from PCI-Express bus. Now, I realise that this card might have been a demo card and consequently might have had the jumper in the wrong position, but I really hope that the shipping cards are setup to default to grabbing power from PCI-Express bus. Better yet, a small switch on the face plate would have done the job.
Once I figured the power situation out, the rest was a breeze. The "physical" machine all of a sudden found a couple of USB ports, an Apple mouse and keyboard, plus my LG W2252 panel which was now listed as a secondary monitor (I used the primary DVI on the graphics card in clone mode to feed a "local" monitor next to the machine).
Well now on to the tests. None of these situations are scientific. They are based on what I see students doing on a day to day basis. The "logical" distance between the portal and the remoted PC is 4 GigE switches and they are on two different subnets. The portal is super snappy, mouse and keyboard feel like they are hooked into the "real" machine. I even had a couple of our staff members come and test my new Quadzilla PC (I showed them the tiny portal device and told them it was a quad core AMD machine) and they could not tell the difference. Once they were told about the remoting concept, I literally saw a couple of jaws drop. It is truly an amazing experience to sit infront of the portal and have a 1ms delay on a routed/switched network connection across the building to the Quadzilla.
Now our network is fast internally at the university (1Gbps to every desktop with 10Gbps backbone), but the PCoIP system seems to work quite nicely even on 100Mbps segments. Just for arguments sake I grabbed a cheap linksys 4 port 100Mb "switch/hub" and stuck it between the Portal device and the wall connection and I'm happy to report that there was absolutely NO difference in performance.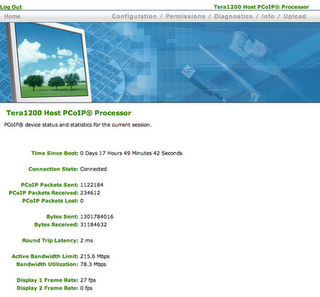 The hardest thing I've thrown at the system was playing back the HD versions of Big Buck Bunny and Elephants Dream and aside from a super tiny delay there is no visual loss that I can see. The system uses about 50-65 Mb/s of bandwidth in this default mode and delivers a solid 30f/s to the portal. Keep in mind that this is on scenes where literally every pixel on the screen is changing at 30 f/s. Normal bandwidth usage is about 1-3 Mbps for average webbrowsing/Excel/Word applications and there are options in the webbased Admin interface to squeeze this down if you need to (default is set to zero meaning full speed ahead). I will cover the webbased admin interface in more detail as soon as i get a chance to play with it more.
The PCoIP system is MAC and PC compatible. I will be doing a MAC test run as soon as I get a hold of the MAC Firmware, so stay tuned.
All in all I have to admit that the system has gone far beyond my expectations. I'm now dreaming of a day when PC graphics can be transmited wirelessly right off the graphics card over a fast/low latency wireless network….Mmmmm, wireless GPU's :-).