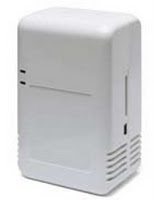 Marvell Semiconductors is now shipping their SheevaPlug linux machines. Little tiny Linux boxes the size of a plugin adapter. The SheevaPlug draws about 5 Watts of power, comes with Linux, and boasts completely open hardware and software designs.
At $100 the platform is available in single quantities, and is priced within reach of students, hobbyists, and tinkerers. This looks like the perfect embeded platform for all sorts of stuff. Think home automation, security monitoring, ultra low powered file servers, ad-hoc mini clusters, not to mention robots and such …..there is no end to it.
Its hardware design is completely open — everything from schematics to Gerber files will be available on a marvell's website — and ARM ports of several popular Linux distributions are already running, and included. More importantly, Marvell has committed to do everything it can to ensure the best Linux support for SheevaPlug going forward.
The $100 SheevaPlug development platform and Plug Computer designs are built around the Marvell 88F6000, or "Kirkwood" SoC, which was introduced last year. The Plug Computer is based on the high-end 88F6281 version of the Kirkwood, with a Sheeva CPU core clocked to 1.2GHz. The Sheeva core combines elements of Marvell's earlier Feroceon and XScale architectures, both of which implemented ARM Ltd.'s ARMv5 architecture, similar to ARM Ltd.'s own "ARM9" cores.
The SheevaPlug Plug Computer is further equipped with 512MB of DRAM and 512MB of flash. The tiny embedded PC also includes gigabit Ethernet and USB 2.0 ports. One early product based on the design is listed as measuring 4.0 x 2.5 x 2.0 inches. Plugging directly into a standard wall socket, the Plug Computer draws less than five watts under normal operation, compared to 25-100 watts for a PC being used as a home server, claims Marvell.
Early supporters of the SheevaPlug Plug Computer design include the following companies, each with links to their respective websites:
Fun,fun,fun…..