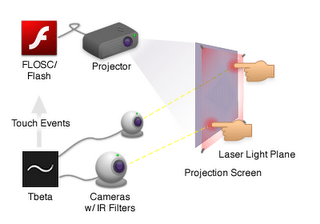 Yep you heard right….freaking lasers…..yummy. These guys have managed to turn a rear-projection TV into a multitouch surface using IR lasers. Absolutely fantastic as it (using lasers) makes the whole design a lot simpler and gets rid of the the tracking problems associated with regular IR LED based tables and ambient IR light. Although the original laser idea comes from arbi.trario.us gang, stuffing everything inside a 16″ deep tv is a nice touch :-).
Below is a good rundown of the pros and cons of this setup vs. FTIR:
Pros

Excellent tracking results, even with lots of ambient IR light.
Zero-force: Feels very natural to work with.
Comparatively easy to build.
Comparatively cheap to build.
Comparatively fast to build.

Cons

Already "sees" the finger slightly before it touches the surface (since the laser light plane extends to about a millimeter above the surface).
It is very sensitive.
Availability of infrared lasers*
Lasers are dangerous for the eyes.
Potential problems with occlusion.

*As long as you are careful with the lasers, your eyes will be safe: Just accidentally looking into the laser for a second won't do any harm, it's just that you shouldn't stare into them for long. However, since the infrared lasers also emit a bit of (red) light in the visible spectrum, you'll notice immediately when you're looking into a laser by accident, so you can turn your head away. It's really nothing to worry about too much, but it's most definitely not an ideal setup if you want to work with children, for example!
Their blog page outlines everything…..and I mean everything.