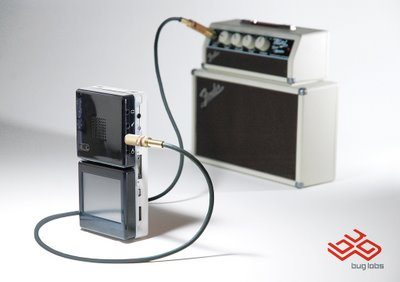 Bug Labs announced five new BUGmodules at the 2009 Consumer Electronics Show in Las Vegas. At the Bug Labs Test Kitchen the team showcased several innovative new BUG applications which fully demonstrate the endless possibilities of BUG, the open source modular consumer electronics platform. Each BUGmodule represents a specific gadget function (e.g. a camera, a keyboard, a video output, etc.) that can be snapped to the BUGbase, a programmable Linux-based mini-computer with four available BUGmodule slots.
The five new BUGmodules are:
BUGprojector, a mini pico-projector module, incorporating DLP® Pico™ technology from Texas Instruments. With a native resolution of 480×320 pixels, stereo playback and a brightness of 9 lumens, users can project videos, photos and presentations on the go.
BUGsound, an audio module, providing a flush-mount 20-mm speaker and omnidirectional microphone with hardware stereo codecs and four 3.5-mm stereo jacks for third-party inputs, outputs, headphones and microphones. Use BUG as a portable music player, speakerphone, audio processor or more.
BUG3g GSM, a 3G mobile radio with SIM card input, enabling BUGs to connect to any high-speed GSM network. Users can place calls, send and receive SMSes or transmit data, opening a world of possibilities for mobile and telephony applications.
BUGwifi, a dual-function 802.11b/g wi-fi and Bluetooth™ 2.0 + EDR radio, offering yet another wireless data connectivity option for the BUGbase, while providing a gateway to a variety of peripherals such as keyboards, mice, headsets and more.
BUGbee, a low-powered 802.15.4 radio, enabling BUG developers to create short-range personal area network (PAN) applications for home automation, sensor networks, automotive and more.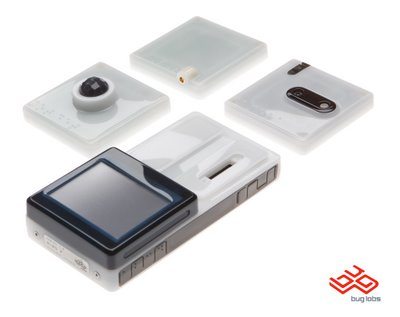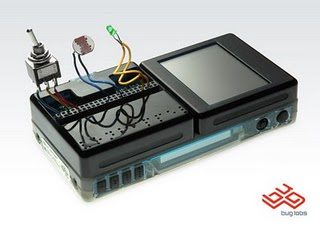 These five modules complement the initial batch of BUGmodules, including BUGlocate (GPS), BUGcam2MP (digital camera), BUGmotion (motion sensor and accelerometer) and BUGview (touchscreen LCD). And with the recent addition of BUGvonHippel, a breadboard module enabling users to add virtually any interface to their BUGbase, developers are given more control in making BUG the center of their device universe.