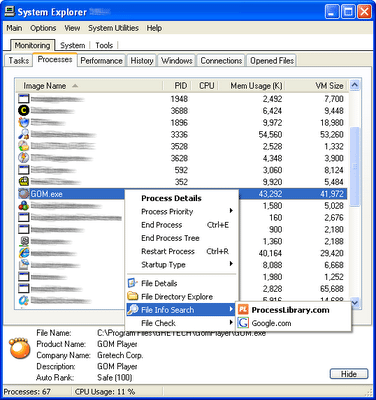 Yes, we all know Windows task manager sucks. So I set out to find a decent replacement and that's when I came across System Explorer. It's FREE and it rocks. Here are the major features:
Detailed informations about Tasks, Processes, Modules, Startups, IE Addons, Uninstallers, Windows, Services, Drivers, Connections and Opened Files.
Easy check of suspicious files via VirusTotal or Jotti service.
Easy search details about file/process via online databases.
Security Extension for automatic check of processes,modules and selected files.
"New Task…" dialog with integrated AutoSearch and AutoCompletion.
Action History for monitoring processes activities.
Performance graphs for monitoring usage of system resources in time.
System Snapshots for easy finding of system changes.
System Report builds rich text report containing major informations about your System.
Multilanguage and Plugins Support.
Can be used as Task Manager replacement.
It's the best one I've come across and it actually makes me a bit jelous — you know, not having it in OSX and all — so go grab it and let me know what you think. It comes in installer or portable version (for your USB stick) and as always, if you know of a better progy, send me a comment.