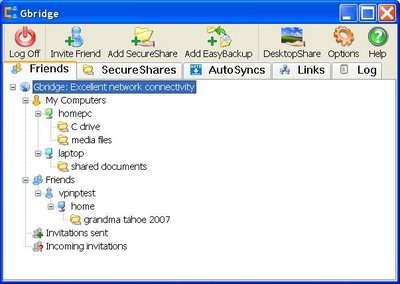 Gbridge is a free software that lets you sync folders, share files, chat and VNC securely and easily. It extends Google's gtalk service to a VPN (Virtual Private Network) that connects all your computers directly and securely. No matter if they are behind Firewalls, NAT or anything else for that matter. Here are some of it's main features:
Access your files cross your computers, e.g. instant mp3 play, securely and easily through SecureShare.
Use AutoSync to copy big files and sync folders between your computers.
Use EasyBackup to auto backup your important directory to another computer.
Remote control your computer easily and securely through DesktopShare (build-in VNC) or Microsoft Remote Desktop.
Gbridge automatically forms a VPN among your multiple PCs no matter where they are. You can also extend the VPN to include your Gtalk friend's PCs if both sides allow.
Great extension of Google's Gtalk infrastructure, self-forming, zero-config.
IPv4 level compatibility while providing authentication, encryption and mobility.
P2P direct network connection, excellent privacy and great performance.
Dynamic DNS and private IP, solve the real world naming and connectivity issues for almost all network applications.
So grab yourself a copy or two, and don't forget to send the link to all your friends.