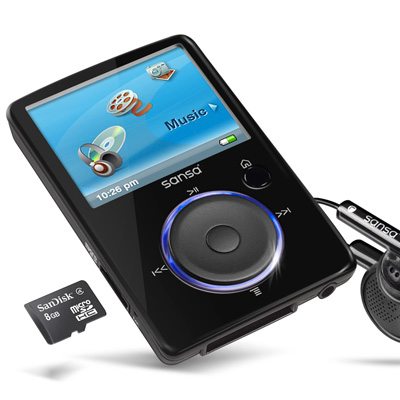 I admit up 'til a couple of days ago I was a IPOD fan. I personally own 4 Ipods (30 GB 3rd gen, 80 GB 5.5 gen, 16 GB Touch and a 2GB Shuffle). I generally like their sounds quality, build and their user interface. I have also tried a bunch of other MP3 players in the past (Archos, Lexar, Nokia N95, PSP, RCA MC2020). The one thing I've always wanted was a expandable, small, solid state, good sounding player that would also play FLAC files. I'm a sucker for good sound and short of ordering a COWON player from US there was no real choice in this market.
That was until Sandisks surprise firmware upgrade for their Fuze and Clip player last week. They've added amongst other things, support for OGG/Vorbis and FLAC playback. Upon discovering this I dropped by the local Future Shop and picked up a 8GB Fuze to play with (plus a 8GB MicroSDHC card). This little guy is an absolute joy to use. Super simple interface that mimics the good parts of the original IPOD (I love the scroll wheel), Excellent sound quality (not a COWON , but very close) and a tag based browsing system which integrates the internal and external memory seamlessly.
One of my major beefs with other (read non-ipod) players has always been that they treat the external storage separately. You have to manually switch to the memory card if you want to listen to the music that's in there. This is a pain and SanDisk has fixed this by presenting the user with a unified tag-based database. You stick a 8GB Micro SDHC card in the device and you've literally upgraded your device to 16GB (if you start with the 8GB device). There is no distinction between internal and external storage, it just works.
Of course the other major plus point for me was the ability to play FLAC files. I have to admit that I wasn't prepared for how well this little guy plays flac files. It's absolutely mind blowing — for a portable player — no hissing, popping, clicking……just excellent sound. I've tested the player with my Sennheiser HD600 headphones and although they are a bit too heavy for this little guy to drive — you have to turn the player up to about 80% volume — the music sounds fantastic. I also tried the super sensitive Sony MDR-V700's and I have to say the Fuze can literally blow your head right off with clean undistorted sound. I normally use a pair of AKG K26P's for everyday subway ride and they pair quite nicely with the Fuze as well.
Anyways, If you want a great player — even for mp3/compressed music — you have to give Fuze a listen. I think you'll be surprised at how good it sounds, not to mention the fact that it's cheaper than similar Ipods. And as a bonus the player can presents itself as a MTP or MSC device. This makes it simple for people who want to use Windows Media Player to organize their music (MTP mode) or those who just want to treat the player as a USB Storage device and manually copy folders of content over to it (MSC mode). This simply means that all three major platforms — Windows, OSX and Linux — are supported.
My way of upgrading the firmware was to charge the battery to full first (couple of hours), download the actual Fuze firmware (not the upgrade utility that runs in windows only) from the forums, unzip and copy the firmware file to the root directory of the device (device must be in MSC mode). Eject and disconnect the device and let it upgrade the firmware followed by a power cycle (push the power button up and hold for a couple of seconds).