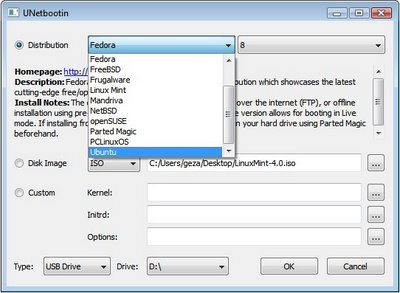 I'd covered Fedora's Live USB creator a while back. But for those of you wanting to install other flavours of linux on a USB stick (or a HD even), the process was lengthy and cumbersome. That was before UNetbootin, the Universal Netboot Installer. You see UNetbootin can be run from Linux or Windows and will enable you to install a fully functional linux distro to a USB stick or even a spare partition.
The current version has built-in support for the following distributions:
So go ahead and try some of those acquired flavors of Linux, or that FreeBSD you always wanted to install, but were too scared to. After all it's only a USB stick, if it screws up just format and reinstall in 5-10 minutes using UNetbootin again.
UNetbootin can also be used to load various system utilities, including:
So have fun and happy installing…..