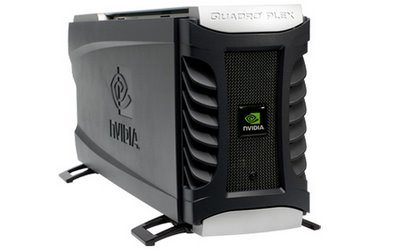 I'm gonna date myself here and ask….Does anyone remember the Agnus Chip? How about the Fatter Agnus or the Alice? For those of you who don't know these were the original and upgraded OCS/ECS chips that did most of the amazing (for the time) graphics for the Amiga computer back in the late-80's/early-90's. Fast forward to today and the announcement of the "Fatter Quadra Plex" at Siggraph 2008. The new desktop graphics monsters come in two flavours. From the announcement:
The NVIDIA Quadro Plex 2200 D2 VCS, with two Quadro GPUs, 4 dual-link DVI channels, and 8 GB of frame buffer memory, is designed for advanced visualization of extremely large models and datasets, as well as high-performance computing processes. Its partner, the Quadro Plex 2100 D4 VCS with four GPUs, 8 dual-link DVI channels and a 4 GB frame buffer, is optimized for multi-display applications.

The new Quadro Plex 2200 D2 VCS houses two Quadro FX 5800 GPUs, providing 480 NVIDIA CUDA Parallel Computing Processor cores and 8GB of graphics memory. The thermal and power management capabilities of the chassis offer up to 20% performance improvement over standard add-in graphics, making it the most powerful visual computing system available. The Quadro Plex 2200 D2 VCS houses up to four Quadro FX 4700 GPUs, powering up to four displays via its dual-link DVI outputs, and up to eight displays with its high-resolution projection capabilities.
The Quadro Plex D2 will be featured in technology demonstrations of real-time NVIDIA GPU-based raytracing, large scale CAD modeling and 4K HD power walls at SIGGRAPH 2008 in Los Angeles, August 12-14, 2008 (NVIDIA Booth 554). The Quadro Plex D Series VCS will be available in September 2008 with prices beginning at $10,750.