Well this trip was by far the longest one we've (the three amigos) have taken. The Flickr set is here if you don't want to read about the details below. It all started about a year ago when I found out about the Black Hole company in Los Alamos, a recycler of "nuclear waste" that has the world's most diverse stock of used scientific equipment, electronics, lab supplies, nuclear by-products, surplus items and manterials. Basically one of the largest most well stocked surplus stores I've ever visited. The Black Hole became our final destination and we build the trip around it.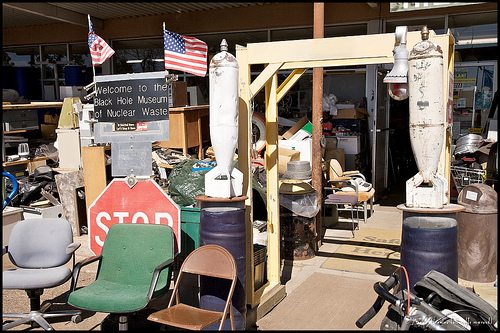 We left Las Vegas and NAB2008 around 14:00 on Thursday April 17 and drove like crazy on I-40 East through Kingman, Flagstaff, Winslow and stayed the night in Holbrook. This was roughly 550 Km, and the first leg of our trip. Next morning on April 18, I woke up quite early and photographed the nearby Wigwam Village #6. We got "fed up" at the local Denny's (Moons Overmyhammy….Yummm) and left Holbrook on US-180 to get to the southern entrance of Petrified Forest National Park. We visited the entire park including the northern part (Painted Desert) and got back on I-40 (old Route-66) towards Albuquerque. We were going to spend the night there, but decided that it would be better to work our way toward Roswell (our next stop for Saturday) and so decided to stay the night in Socorro, NM. We were 1042 Km into our trip. If you're ever in Socorro, visit their micro brew pub and try the "Pick Axe" IPA……yummm.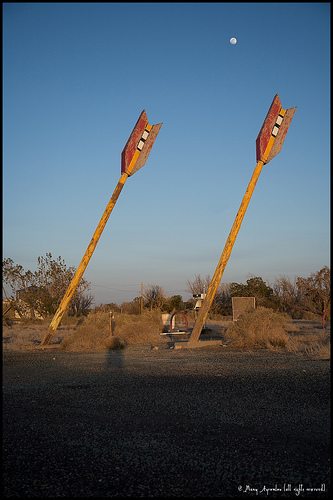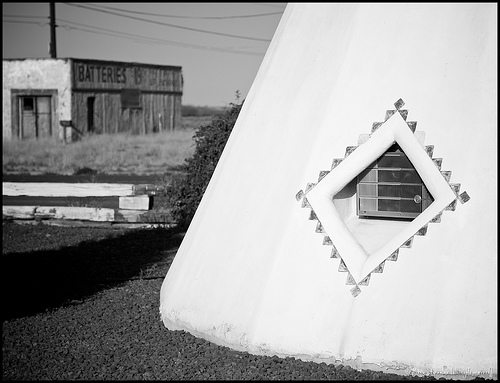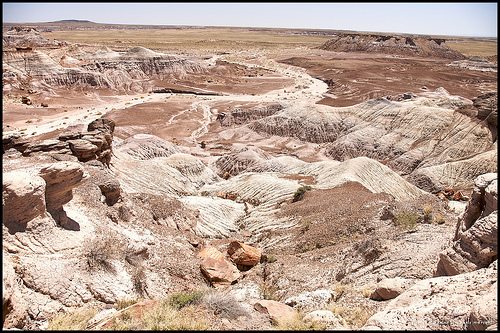 The next day (Saturday April 19) we woke up early and again did the Moon's Overmyhammy thing at the local Denny's and proceeded to drive down to Roswell to find those damn Aliens and see if we could find some Alien Tech :-). This took us through San Antonio and Carrizozo on US-380 where we passed by the Trinity test site plaque. Glowing nice and green we pulled into Roswell and spent a couple of hours doing research at the Roswell International UFO research centre and museum. Once we found the Alien-tech we took off on I-70 through the mountain passes and arrived at our destination for the night, Alamagordo. We had traveled 1495 Km by this time. The night was young and we decided that we were going to dump our luggage in our "dumpy" hotel and race to White Sands National Monument and catch the sunset. Once we got there we found out about their ranger led 1 hour sunset tour and decided to do that. We were unfortunately not rewarded with a spectacular sunset (it was mostly cloudy), but got lucky and caught a very rare bluemoon over the dunes for about 4-5 minutes. We went back to our "dumpy" motel for the night.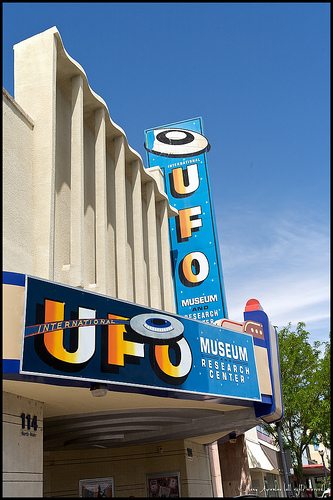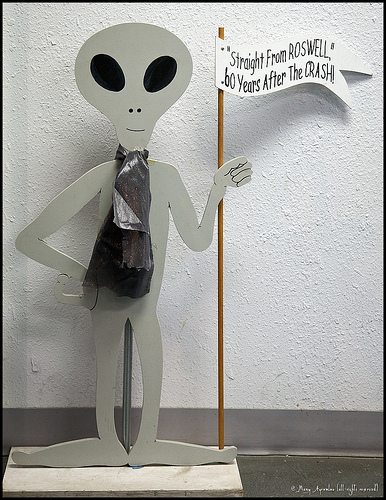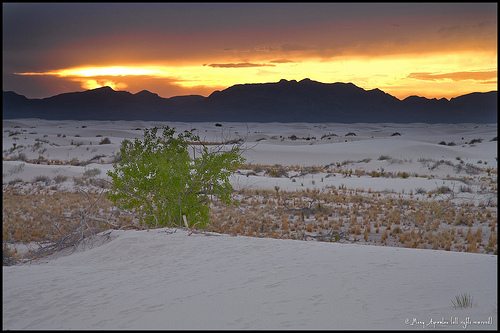 The next morning (Sunday, April 20) we checked out, got fed up at Denny's again (please no more Moon Overmyhammy….) and went back to White Sands to do more exploring. This place is like a Hot version of North Pole. You see brilliant white everywhere you look (well except up, which is blue), but it's warm and windy. I decided to do a barefoot hike on the Alkaline Flat Trail. Take my advice, take lots of water, lots of sunscreen and go barefoot. The sand is nice and cold (since it's so white) and feels great between your toes. The whole trail was about 4 miles which was just enough to digest the Moon Overmyhammy from that morning :-). We got back in the car and drove another 40 miles down on US-70 to White Sands Missile Range. This place was a bit scary, but the guards were very nice and let us inside the missile museum. We were warned to shot pictures with the mountains in the background only (ie: north) and not point our camera South, East or West and we were not gonna argue :-). We left there and drove straight on I-25 North to Santa Fe, wolfed down a couple of Quarter Pounders (no food places open after 18:00 in Los Alamos, from what we heard) and took the widening road up the mountain to Los Alamos and arrived there around 18:00. We had chewed through 2173 Km's by this time. We checked into our hotel and meet up with our good friend Cindy who works at the Lab's, had a couple of beers and went to bed.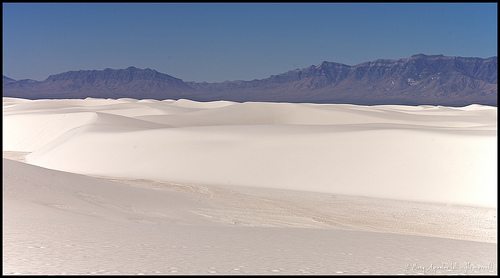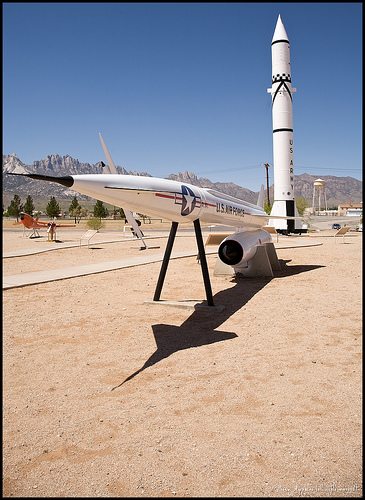 The next day (Monday, April 21) we drove around town and failing to find Denny's (thank god), decided to go to McDee's for breakfast. Once fed, we were gonna go to the Bradbury Science Museum, but found that it opened at 13:00 on Mondays. Man, life must be pretty shweet up there in the mountains with half-day siesta's :-). Anyways, we decided to go and see Ed Grothus at the Black Hole. This was a treat and I thoroughly enjoyed Ed and his weird and wonderful Black Hole. Definitely a place to visit if you're near Los Alamos. We got a bit of a bonus once my buddy Brad found out about the White Rock Overlook and the nearby Bandelier National Monument. White Rock Overlook (yeah, we found out, white rock is the name of the town, no white coloured rock at the overlook) was kinda cool with it's view of the Rio Grande. We double-backed from there and went to Bandelier National Monument which was a total surprise. What a great National Park and how severely underrated. We asked around about places to visit in Los Alamos and almost no one told us about it. We found it in a brochure and decided to give it a try. I'm very happy that we did. One of those gotta go places if you're in the Los Alamos/Santa Fe Area.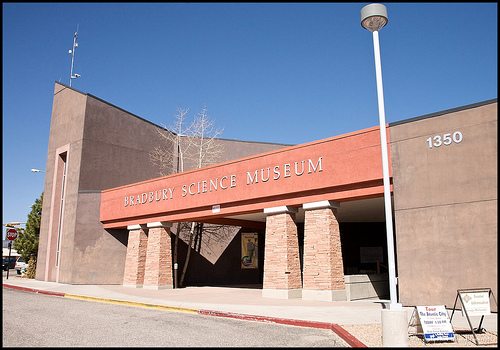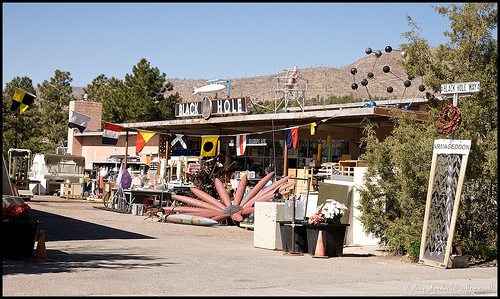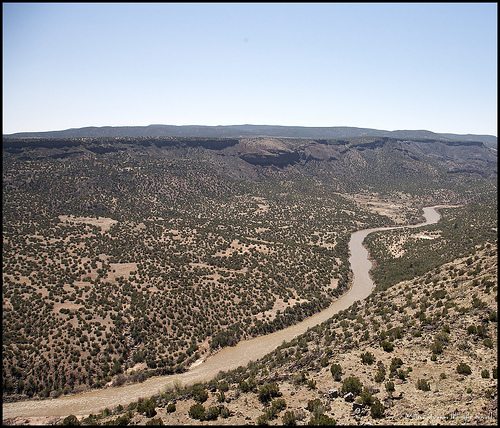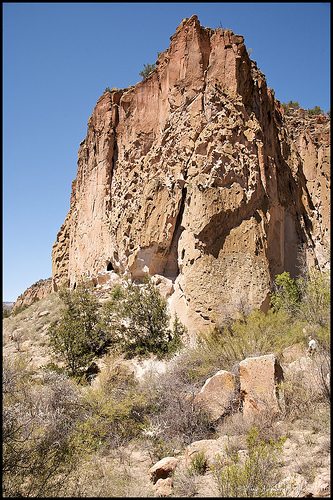 After all the adventure, we drove back to Albuquerque since we had to drop off the car there the next morning (Tuesday, April 22) and catch our flight to Denver and then to Toronto. We got to Albuquerque around 17:00 after having driven a total of 2342 Kilometers, parked our butts in our $53.99 Suites, bought some beer and ordered Pizza for the night.
Next morning (Tuesday, April 22), we dropped off our car at the Alamo drop off (which was a bit of an adventure to find), hopped on the shuttle and said goodbye to New Mexico, my new favorite place in United States. Sorry Arizona, you guys got demoted to number two :-). Check out all my pictures from this trip on flickr.