A lot of people seem to be having problems (issues) with the original way I had
proposed here using command line
. So, I figured I make it real simple and do a graphical tutorial with screen shots to boot :-). In this example we first deal with the server (running windows) at IP address 192.168.1.1, then we move to our client (Mac OSX) at IP address 192.168.1.2 and view the servers screen remotely through streaming video. So first on the server (remember 192.168.1.1 is the IP address):
1) Bring up VLC and select
File/Open Capture Device (Ctrl-A).
You should see this screen modify the bottom portion (
Advanced Options
), so it looks like this picture below. You can decrease screen-fps to 15 if you like to speed things up a bit.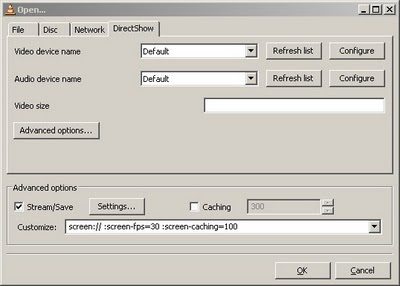 2) On that same screen Click on the Settings… button beside Stream/Save and you'll see the following screen. Make sure it's configured this way if you want to do the streaming through HTTP protocol. Audio Codec does not need to be checked, since there is no audio, I just put it in as habit. Note the Address field is the IP address of the same machine (the server in this case), which is 192.168.1.1. This can be a bit confusing.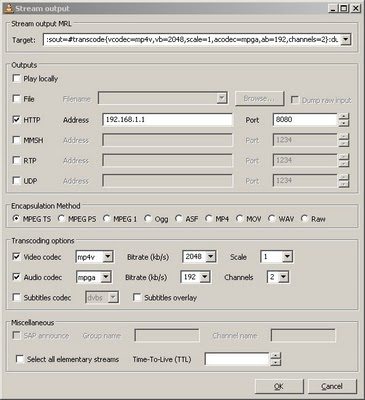 3) Press Okay twice and your VLC server is up and running serving your desktop to whoever wants to watch (Note: This WILL slow down your server machine considerably).
4) Go to your client machine (192.168.1.2 in our case), run VLC and go to File/Open Network menu option and fill it in as follows. Note that we're connecting to our server at 192.168.1.1 now.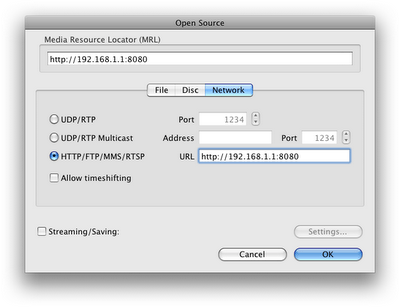 5) Press okay and you should see the stream from your server now…..DONE!!