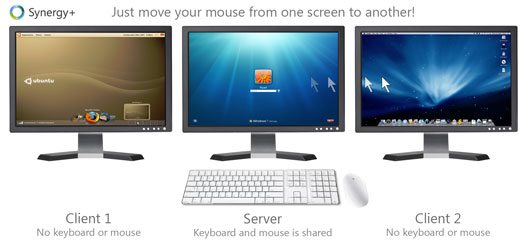 I've been using Synergy for about 3 years now and never really thought about writing about it. Tonight I came across Synergy+ which is a maintenance fork of the original Synergy. So I thought about writing a small note about it since it's now maintained again.
Synergy+ (synergy-plus) lets you easily share a single mouse and keyboard between multiple computers with different operating systems, without special hardware. All you need is a LAN connection. It's intended for users with multiple computers, where each system uses its own display. It's a little like having a 2nd or a 3rd desktop. It's not a KVM or VNC tool, but it does achieve similar results (but with added convenience). No need to press any buttons when you want to change desktops, and your keyboard input goes to the same screen that your mouse cursor is on.
Main features:
Move your mouse easily between computers
Requires nothing other than existing ethernet
Copy and paste between your computers
No need to press any buttons (unlike KVM)
You can still use multiple monitors on the same computer
By using the ScrLock (or "Scroll Lock") key you can prevent switching from one monitor to another, which is useful for gaming and other full screen applications.
So head over to Synergy+'s home over at Google Code and grab your copy. Synergy+ is free open source software.