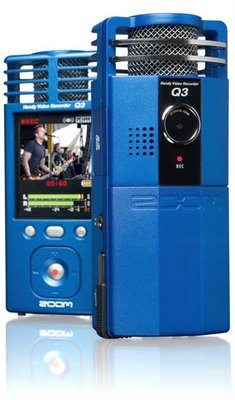 I love the Samson guys, they introduce a product, listen to the customers, improve the product and release it at a more affordable price. Q3 is their latest creation and it goes straight after all you pod/vod casters out there. Need to do a interview, gotta have good video….and need to have the best sound, well if you've got $250 bucks then Q3 is your friend. The Q3 Handy Video Recorder brings Samsons renowned audio technology to the camcorder, making it the best sounding video camcorder you've ever heard. So throw away your Creative Vado/Flip HD gadget and step up to video with "Real" sound. After all "Apocalypse Now" still looks good on VHS 'cause it had kick ass audio.
The Q3 uses the same microphone capsules as our industry-leading H4n Handy Recorder and is perfect for recording anything where great audio and video are a must. From live musical performances and rehearsals, interviews, conferences to video podcasts, journalism, education, recitals, weddings or sports, the Q3's pristine audio quality takes your videos to another level.
The Q3 puts a little bit of video and a whole lot of audio together in one quick and easy to use camcorder that lets you produce great movies on the go.
Features:
Built-in stereo condenser microphones with X/Y configuration for true stereo imaging
Get up to 1 hour of video with bundled 2GB SD card
Accepts up to a 32GB SDHC card for 16 hours of recording time
Large 2.4″ LCD display with a resolution of 320 x 240
Video resolution of 640 x 480 at 30 frames/sec
Video Format: MPEG-4 SP
NTSC / PAL TV output
Optics Lens Type: Fixed Focus (0.8m to infinity)
Audio formats with video include 44.1/48kHz 16/24-bit Linear PCM WAV or MP3 up to 320kbps
Audio only formats include 96kHz 16/24-bit Linear PCM WAV
Auto Record Level automatically adjusts audio levels during recordings
Uses two standard AA batteries or NiMH rechargeable batteries
USB 2.0 with built-in cable
Windows and Mac OS compatible
Built-in speaker and tripod mount
Includes on-board editing software, YouTube uploader software, Apple Quicktime, TV cable, softcase, windscreen, 2GB SD card, two AA Batteries