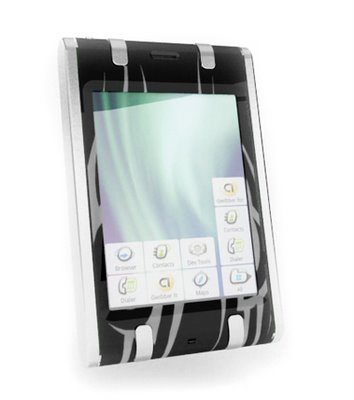 Yep, you can do it now…..The open source hacker community GizmoForYou is shipping a Linux hardware/software kit for building a modular touchscreen smartphone. Using the OMAP35x-based Gumstix Overo Earth single-board computer (SBC), the Flow phone offers numerous customization modules including GPS, 3.5G cellular, Bluetooth, WiFi, and a camera. At around $1300 for the complete kitchen sink version, it's not exactly cheap, but since they offer multiple choices for each component, you can pick and choose what you like to have inside your smartphone. Really neat stuff.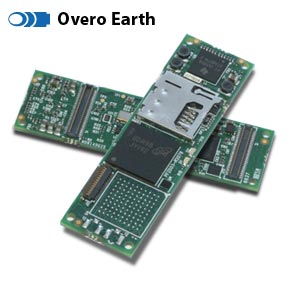 For those of you who are not tuned into Gumstix, the Overo line is a new line of Computer-on-Module devices designed by Gumstix based on TI's OMAP Processor. Overo Earth comes with the following specs:
Processor: OMAP 3503 Application Processor with ARM Cortex-A8 CPU
Clock(MHz): 600 MHz
Performance: Up to 1200 Dhrystone MIPS
Memory: 256MB RAM , 256MB Flash
Features:
Pin-out compatible with future OMAP 35x-based Overo motherboards
on-board microSD card slot
I2C, PWM lines (6), A/D (6), 1-wire, UART, SPI, Camera in, Extra MMC lines.
Headset, Microphone, backup battery,
USB OTG signals, USB HS Host
Connections:
(2) 70-pin AVX connectors
(1) 27-pin flex ribbon connector
Size: 17mm x 58mm x 4.2mm (0.67 in. x 2.28 in. 0.16 in.)
Expansion: Expansion boards for Overo motherboards. Or, custom design from open specifications.
The core of the Flow phone is the Flow motherboard, which is designed to integrate the separately available Overo Earth module. You can also use the more expensive Overo Water, Air or Fire modules. Other modules attach to the motherboard, including a 3.7-inch 640 x 480 Sharp LS037V7DW01 touchscreen LCD and Flow Sharp LCD module.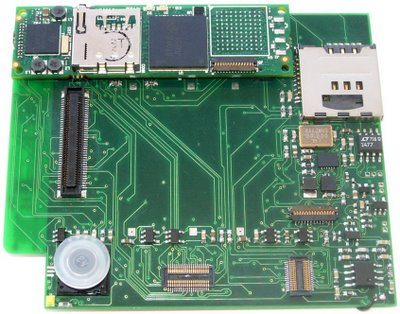 Connectivity modules include GPS, USB, and a choice between a plain GSM cellular module and a HSDPA-ready 3.5G/GPS/GSM/GPRS module. (WiFi and Bluetooth are already supplied by the Overo SBC.) Additional options include a 1GB MicroSD card, camera, power supply, battery, and enclosure, with various options available on several of the modules. Flow motherboard features include:
2 x 70 pin connectors for the Overo module from Gumstix
80-pin connector for the GSM, GPS, and 3G modules
Stereo amplifiers
2 x speakers and GSM audio amplifier for speakers
Microphone and GSM preamp for Mic
PIC16LF877A UI Init (with Bootloader preloaded)
2 x general-purpose buttons linked to the UI Unit
Orientation sensor
Light sensor
Level translation for GSM serial connections
3G USB HS power supply
Luxeon 1W LED for the camera flash features
Dual SIM/MicroSD slot (experimental)
Camera connector and camera power management
Power management circuits fully controllable by the UI unit
Additional pins for connecting external power sources
Dimensions — 3.0 x 2.6 inches (76 x 65mm)
Operating system — Linux
GizmoForYou does not say much about software, but there are a growing number of Linux development platforms supporting the Overo Earth and OMAP35x platforms, and according to a project member, the group is working on an Android implementation.