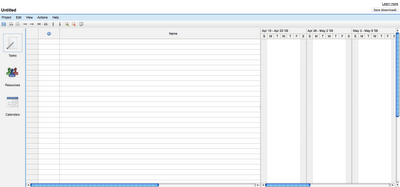 Hot on the heels of cometdocs and it's free document conversion webservice comes Gantter. If you've ever used Microsoft Project, you'll feel right at home here. You can think of it as a web-based Microsoft Project. It helps you to:
Plan and estimate your project (duration, work, cost) by splitting the project into a number of tasks
Review you plan using Gantt chart
Manage project resources (work or material) and assign them to tasks
Manage project calendars (set working times, add holidays etc)
Manage resource calendars (working times, vacations etc)
Control your project's progress by setting % complete values to each task
Review critical tasks
Just like in MS Project you start by adding tasks, setting dependencies between them (Finish-to-Start, Start-to-Start, Finish-to-Finish, Start-to-Start), indenting them to create summary tasks. Then you add resources, modify their calendars if necessary, assign resources to tasks.
Gantter also supports more advanced features:
Plan your project either from its start date or its finish date
Mark tasks as milestones
Set task deadlines
Set task constraints: As soon as possible, As late as possible, Start no earlier than, Start no later than, Finish no earlier than, Finish no later than, Must start on, Must finish on
Set task types: Fixed Units, Fixed Duration or Fixed Work, set Effort driven flag when applicable.
Set lag time and lead time between tasks.
Gantter saves the result in MS Project's XML format, which means that you can open Gantter projects in MS Project. Gantter also supports importing projects created in MS Project.