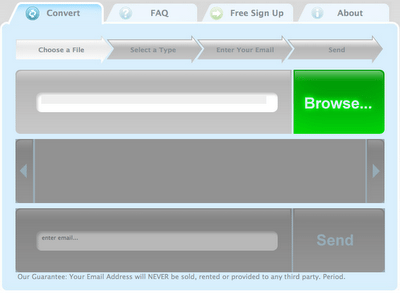 Well just came back from NAB'09 in Vegas. NAB was a bit thinly attended this year (I hear ~85,0000 people, as opposed to close to 200,000 in previous years). Had lots of time to browse the entire show floor. Lots of neat little booths and an entire section for experimental media in North Hall which was kinda cool. Anyways, in catching up with the feeds, today I came across cometdocs . It's a free document conversion web service. Its unique features include on the fly OCR conversion capabilities, over 50 different conversion options and proprietary XPS and PDF conversion abilities that retains formatting, images and text in the selected output format.
A List of Online Conversion Types:
Convert from PDF:
(some conversion support OCR conversion for scanned PDF)
PDF to Open Office Writer format
PDF to Open Office Calc format
PDF to Open Office Impress format
PDF to image BMP
PDF to image JPG
PDF to image GIF
PDF to image PNG
PDF to image TIF
PDF to text
PDF to HTML
PDF to MS Word
PDF to MS Excel
PDF to AutoCAD (dwg)
PDF to AutoCAD (dxf)
Convert to PDF:
Bmp to PDF
Word (doc) to PDF
Gif to PDF
htm to PDF
html to PDF
jpeg to PDF
jpg to PDF
log to PDF
mht to PDF
mhtml to PDF
ODF to PDF
ODP to PDF
ODS to PDF
ODT to PDF
PNG to PDF
PPS to PDF
PPT to PDF
RTF to PDF
SDA to PDF
SDC to PDF
SDD to PDF
SDS to PDF
SDW to PDF
SXC to PDF
SXD to PDF
SXI to PDF
SXM to PDF
SXW to PDF
TIF to PDF
TIFF to PDF
TXT to PDF
WRI to PDF
XLS to PDF
Convert from XPS:
Convert to Open Office Writer format
Convert to Open Office Calc format
Convert to Open Office Impress format
Convert to image BMP
Convert to image JPG
Convert to image GIF
Convert to image PNG
Convert to image TIF
Convert to text
Convert to HTML
Convert to MS Word
Convert to MS Exsel
Other File Conversions:
Excel to CSV (XLSTOCSV)
XML to LINT (XMLLINT)
HTML to RSS (HTMLTORSS)
ASC TO PDB
ASC TO EBC
UNIX TO DOS
DOS TO UNIX
MAC TO UNIX
FIX TO DELIM
DELIM TO FIX
CSV TO DELIM
SORT FILE
PDF INFO
COMPARE FILES
MP3 INFO
FILEINFO
ICONV
So head on over to cometdocs for some conversion goodness…….