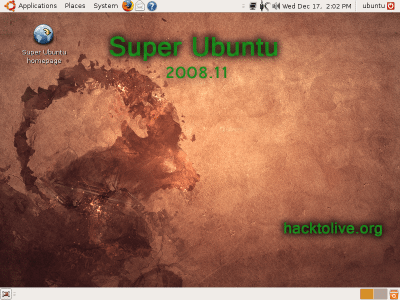 If you've ever installed Ubuntu and started cursing right after because some piece of software you thought was in there wasn't, then Super Ubuntu might be for you. It's basically Ubuntu with a bunch of useful applications pre-installed. You even update through the standard Ubuntu methods. The only downside is that the distro is 32-bit only for now. Below you'll find a list of pre-installed additional software you get with Super Ubuntu:
Adobe Reader 8.1.3
aMule 2.2.2
aMSN 0.97.2
Autopackage 1.2.5
Brasero 0.8.4
compizconfig-settings-manager (to configure the settings of Compiz and the desktop effects)
EnvyNG (command line version)
Firefox 3.0.4
Furius ISO Mount 0.11.1.0
GParted 0.3.8
GIMP 2.6.3
gufw (GUI for uncomplicated firewall) 0.20.6
MPlayer (media player)
NDISwrapper and ndisgtk
Opera 9.63
padevchooser (the graphical interface for PulseAudio)
RealPlayer 11
SFS Technology 0.3.0.4
Smart Package Manager 1.1.1
Skype 2.0.0.72
StartUp-Manager 1.9.11
Mozilla Thunderbird 2.0.0.16
ubuntu-restricted-extras (Java runtime environment, codecs, MP3 support, support for DVD-video, flash player, etc..)
Ubuntu Tweak 0.4.4
VLC Media Player 0.9.4
Wine 1.1.10
Wine-Doors 0.1.2
Zero Install 0.3.7
So head on over and grab the ISO file.