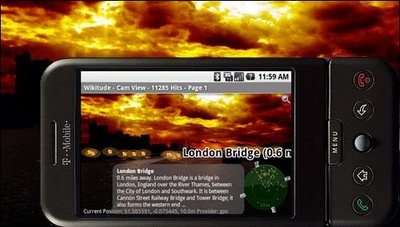 I've been a fan of the potential of augmented reality for some time, but the limitation of having to print out and use those funky registration images has always been there. A lot of people are working on solving/helping this problem. One of the groups that has come up with a novel approach is Mobilizy a small team based in Austria.
Mobilizy have developed one of the hottest applications available for the new Android G-1 Phone, called Wikitude. You see instead of using registration images for pattern recognition and image substitution, they use the GPS, Digital Compass and camera on the G-1 to deliver one of the first really practical augmented reality applications, excellent for travel and tourism.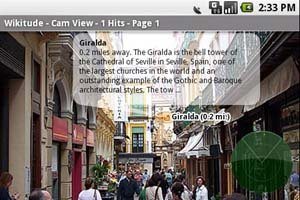 In what mobilizy has dubbed "CamView" mode, users may hold the phone's camera against a spectacular mountain range and see the names and heights displayed as overlay mapped with the mountains in the camera. Users may look out of an airplane window to see what is down there. Users may walk through a city like Seville, Spain, holding the phone's camera against a building and Wikitude tells what it is.
Check out the demo video below for more detail/clearification.