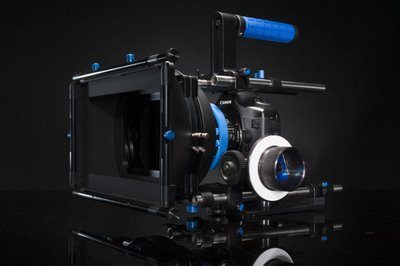 So I've been hearing a lot of whining about the new Canon 5D MKII's being used as 35 mm cinema cameras. Everything from "Where is the fast auto focus?" — and here I thought 35 mm film gear was all about manual focus and adjustments — to "So how do I add filters/mattebox and such?". Well fear not, Redrock Micro is here to save the day . Their new product "cinematization kit" — specifically designed to 5D MKII — is destined to ship November 1, ahead of the Canon camera.
Redrock accessories for Canon 5D MKII transforms the DSLR into production-ready cinema solutions by providing:
Rock-solid 15mm support system
Follow focus for accurate and repeatable focusing
Swing-away mattebox for light management and easy access to changing lenses
Shoulder mount and handgrips for steady handheld use
Support cage for enhanced stability and low angle shot
So start saving those pennies, you got two more days before the cage is released online.