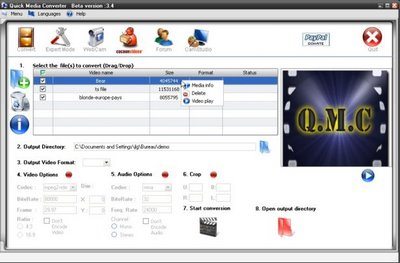 For those of you who've hated the opensource ffmpeg command line media conversion tool, here is Quick Media Converter. It's a nice looking front-end for ffmpeg that hides the command line complexity of this swiss army like media converter. So What can you do with Quick Media Converter?
-Converting Video files from one format to another.
-Converting Audio files from one format to another.
-Extracting and converting Audio files from video or audio media.
-Extracting and converting Video without sound.
-Preview and/or listen to video and audio files with FFPLAY Multi format player (Fabrice Bellard).
– A myriad of formats is recognized by FFmpeg, those not recognized yet, are worked on by many people around the open source community and may most of the time, become available sooner or later.
-Many files to convert? No worry, batch files processing is also supported by QMC.
-You are lazy by nature and do not wish to start selecting files? That's okay just drag and drop the files in the active worksheet.
-You have more specific needs and want to experiment with video and audio conversion, you can do so by using our Expert mode section.
-You want to capture a movie or picture directly from your webcam or DV Cam, just click on the webcam button and start capturing in raw flux or avi divx , after this is done the software will offer you to convert your file to other formats.
-You want to make a tutorial or capture your latest performance in your favorite video game? just click on Camstudio (open source) start recording and add comments on your avi divx movie output.

-Access our support forum directly from our application to get help, we usually respond to your questions within one day or two. We do not support expert mode in general as by essence if you use it you are considered an expert user.
It's a Windows only utility and is free to download.