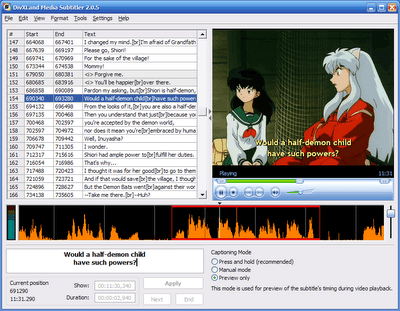 I've always had problems with this and now really appreciate the value of DMS (DivXLand Media Subtitler). You see I own a small HD media player that's connected to my TV. The trouble with this little gadget is that it does not support subtitle files. That's not a problem anymore since DMS allows me to embed the subtitles into the Divx/Xvid file before I watch it.
DivXLand Media Subtitler key features:

* Create subtitle files from plain text files
* Preview subtitled video immediately without saving file
* Save partially edited files to resume subtitling process later
* Automatic caption timing features
* Multiple subtitling modes available
* Support for basic text formatting
* Support for at least 30 subtitle formats (open and save)
* Keyboard shortcuts available to control subtitle process
* Spell check using the Ms Word component
* Embed subtitles on AVI video
* Extract audio streams from AVI and MPG videos into MP2, MP3 and WAV formats
* Check for product updates directly from Help menu
* Quick Start Guide in several languages included as PDF and online
* Support for all East Asian and Right-to-Left languages; more info

Subtitle formats currently supported:

Adobe Encore ● Advanced SubStation Alpha ● CSV (Excel) ● DKS ● DVD Subtitle System ● DVD Subtitle ● FAB Subtitler ● JACOSub 2.7 ● Karaoke LRC ● MacSUB ● Mac DVD Studio Pro ● MicroDVD ● MPlayer ● OVR Script ● Pinnacle Impression ● PowerDivx ● PowerPixel ● QuickTime Text ● RealTime ● SAMI ● SonicDVD ● Sonic Scenarist ● Spruce DVD Maestro ● Spruce Subtitle ● SubRip ● SubStation Alpha ● SubViewer 1.0 ● SubViewer 2.0 ● Tabbed values (generic) ● TMPlayer ● TurboTitler ● Ulead DVD Workshop ● ViPlay ● ZeroG
Fantastic windows only application and free to download.