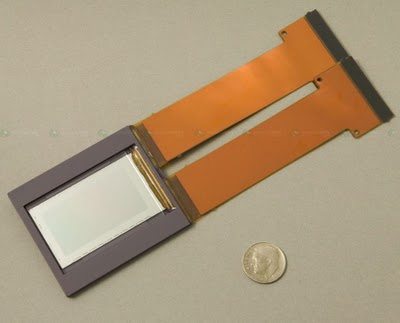 Yep, in the classic "mine is bigger than yours" fashion, JVC has once again upped the ante by introducing the worlds first single display device capable of 8K Super Hi-Vision. That's 8192x432o pixels of joy AKA 35 bloody megapixels. We recently covered the introduction of JVC's 4K D-ILA projector and well now the new game is called 8K.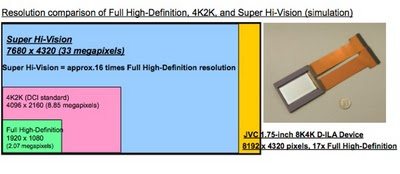 Victor Company of Japan, Ltd. (JVC) announces a new addition to its lineup of proprietary D-ILA (Direct-Drive Image Light Amplifier) high-definition reflective liquid crystal devices for projectors. The newly developed 1.75-inch 8K4K D-ILA device has the world's largest number of pixels and is able to display images of approximately 35 megapixels (8192 x 4320 pixels), the equivalent of more than 17 times the level of Full High-Definition. This means that a single display device can now produce Super Hi-Vision images and can display images with the highest number of pixels currently defined under international standards.

After JVC developed the initial 7.86-megapixel (3840 x 2048 pixels) 4K2K D-ILA device in the summer of 2003, it subsequently further evolved the technology for highly realistic, high-definition images through a range of test viewings and verification testing, resulting in the development of JVC's first commercial 4K2K D-ILA device (1.7-inch device size, 5,000:1 device contrast ratio) and the 4K2K D-ILA projector incorporating that device in September 2004.

In June 2007 JVC developed a 1.27-inch 4K2K D-ILA device that was the world's smallest device of its kind, having a 6.8µm pixel pitch and 4096 x 2400 pixels, and in February 2008 it began marketing a newly commercialized professional D-ILA projector, DLA-SH4K, incorporating that device.

Through the development of a new production process and new pixel structure for even finer pixels, JVC has now succeeded in developing the 1.75-inch 8K4K D-ILA device, the world's first device to achieve real Super Hi-Vision definition level. The new device has approximately 50% higher density in its ratio of area per pixel as compared to the 1.27-inch 4K2K D-ILA device, which was originally the world's smallest 4K device. Furthermore, the new device has achieved a video display of approximately 35 megapixels, the world's highest pixel counts, while continuing to provide the D-ILA series' characteristics such as "high-quality images without a distracting pixel structure", "high light availability", and "high contrast ratio".